'Batman: Year One' Animated Trailer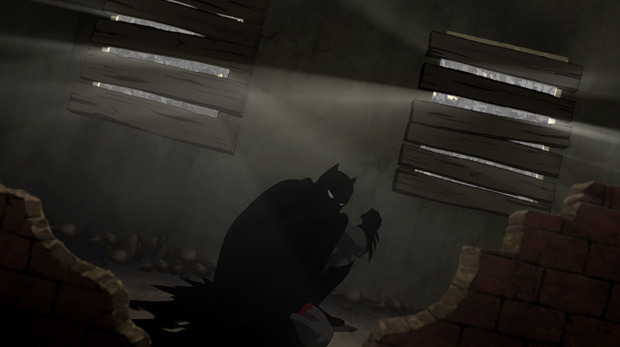 After Frank Miller wrote the end of Batman's story in The Dark Knight Returns, he and the brilliant comic artist David Mazzucchelli took to the pages of Batman's regular comic series to remap the character's origin in Year One. Those issues (Batman #404-407 in 1987) became one of the landmark Batman stories. For almost twenty-five years Year One has had a lasting effect on major Batman storylines, even instigating  the scuttled Darren Aronofsky Batman film a decade ago, and eventually providing a good deal of inspiration to Christopher Nolan's subsequent film Batman Begins.
Warner Premiere is continuing its series of animated DC Comics films with a direct to DVD animated take on Batman: Year One, starring Ben McKenzie as Batman, Bryan Cranston as Lt. James Gordon, Eliza Dushku as Selina Kyle/Catwoman, and Katee Sackhoff as Detective Sarah Essen. We've already seen some art, and for a moment there was a ten-minute making of featurette that has since been taken offline. Now there is a trailer, which you can see after the break.
I love the fidelity to David Mazzucchelli's art, and most of the voice work is great. (It's a bit weird getting used to a new Batman voice every once in a while for these direct to DVD movies, but that's life. Kevin Conroy's voice acting is just too deeply embedded as my ideal animated Batman.) While I love the art direction, I don't love the relatively low-quality animation, but that's life, too. Better animation would put these adaptations out of the range of feasibility, and I'm willing to live with what we see here.
Still, this generally looks like a very good adaptation of the story. I've found some of the direct to DVD animated DC movies to be