First Photos From Amy Heckerling's 'Vamps'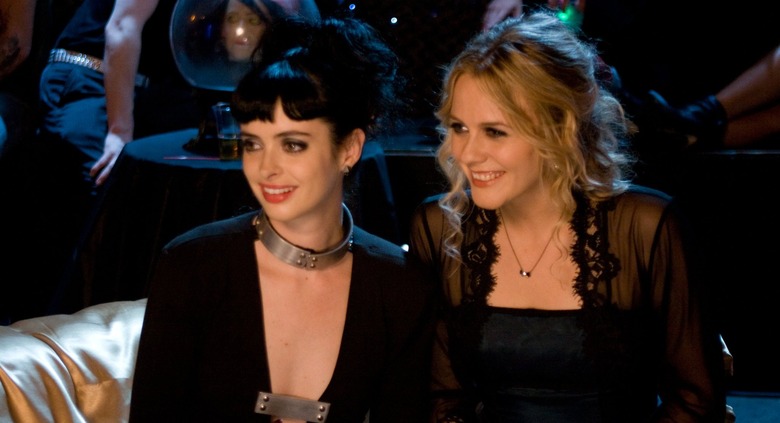 Tired as I am of the "paranormal romance" trend, I'm actually looking forward to Amy Heckerling's vampire romcom Vamps. Plot-wise, it doesn't sound too different from any other vampire flick. The story centers around Goody (Alicia Silverstone) and Stacy (Krysten Ritter), two beautiful vampires living the good life in modern-day New York "until love enters the picture and each has to make a choice that will jeopardize her immortality." But I'm hoping the director of teen comedy classics like Clueless and Fast Times at Ridgemont High can infuse these tired tropes with some fresh, subversive flavor.
It'll be a while before I find out if my wishes will come true — the film doesn't even have a release date yet — but a batch of new photos offers clues as to exactly what kind of vampires we'll be dealing with. Check the gallery out after the jump.
In addition to Silverstone and Ritter, the film also features:
Marilu Henner as Angela, "a deathly ill woman who gets "awakened" to her former hot self."
Zak Orth as Renfield, a friend of the two protagonists.
Malcolm McDowell as Vlad Tepish, a.k.a. Vlad the Impaler
Sigourney Weaver as Ciccerus, the vampire who originally turned Stacy and Goody
Todd Barry as Ivan, Ciccerus' assistant
Dan Stevens as Joey, Stacy's love interest
Wallace Stevens and Kristen Johnson as Joey's parents
Richard Lewis as Danny, an ACLU lawyer
Justin Kirk as Vadim, a Russian vampire
That's all I'll tell you here, but feel free to hit up the film's Facebook page for a very detailed, much more spoiler-y plot description and some behind-the-scenes shots.
Heckerling's clearly not shying away from goofiness here. Note the still of Silverstone and Ritter in their room, decked out with coffins and a humungous vat of embalming fluid, or the fact that McDowell's Vlad the Impaler has been described as a man who enjoys velvet jogging suits and knitting. I'm okay with that. Clueless was very silly, and yet it remains one of my all-time favorites thanks to sharp writing, and memorable characters and performances. I've got my fingers crossed that we'll be getting a similar deal with Vamps.
Discuss: Do you want to see Heckerling's Vamps?