'The Iron Lady' Teaser - Meryl Streep Clutches Her Pearls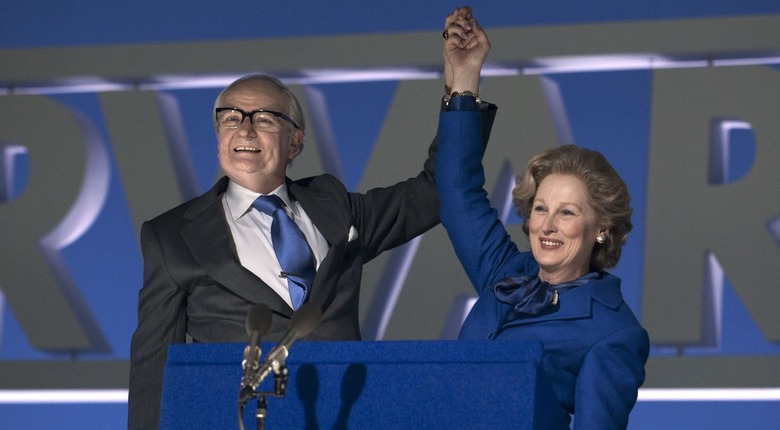 We've already seen Meryl Streep dressed up as British Prime Minister Margaret Thatcher for The Iron Lady, and a new teaser for the biopic offers our first glimpse at Streep-as-Thatcher in action. In the clip, two of her colleagues discuss her image before Thatcher cuts in to let them know exactly where she she is and isn't willing to negotiate. The whole scene is set to, of all things, Clint Mansell's score for Moon.
Directed by Phyllida Lloyd (Mamma Mia!), The Iron Lady focuses on Thatcher's days in power leading up to the start of the Falklands War in 1982. Watch the teaser after the jump.
[via The Film Stage]
I have to admit I'm not sold on Streep's impersonation here. Based on this brief clip, there appears to be something self-conscious, even silly about Streep's performance. She doesn't seem to disappear into the role as she does in all of her best work. I do like the moment toward the end when she loses the smile and slips back into Serious Business mode, though.
All that said, I'm not overly concerned about the fact that I didn't love the trailer. Streep is one of the most revered actresses of our generation for a very good reason, and I'm hopeful that I'll come around to her performance once I see the rest of it, in context.
In addition to Streep, The Iron Lady also stars Roger Allam, Anthony Head, Richard E. Grant, Alexandra Roach, and Harry Lloyd, with Jim Broadbent as Thatcher's husband. The film will hit U.S. theaters December 16, 2011, just in time for awards season. U.K. moviegoers will have to wait a few more weeks — the film opens there January 6, 2012.
Synopsis:
THE IRON LADY is a surprising and intimate portrait of Margaret Thatcher, the first and only female Prime Minister of the United Kingdom. One of the 20th century's most famous and influential women, she came from nowhere to smash through barriers of gender and class to be heard in a male dominated world.
This is a film about power and the price that is paid for power, a story that is both unique and universal.
Discuss: What do you think of the teaser? Does Streep do a good Thatcher?