/Film Visits The Editing Room Of 'John Carter'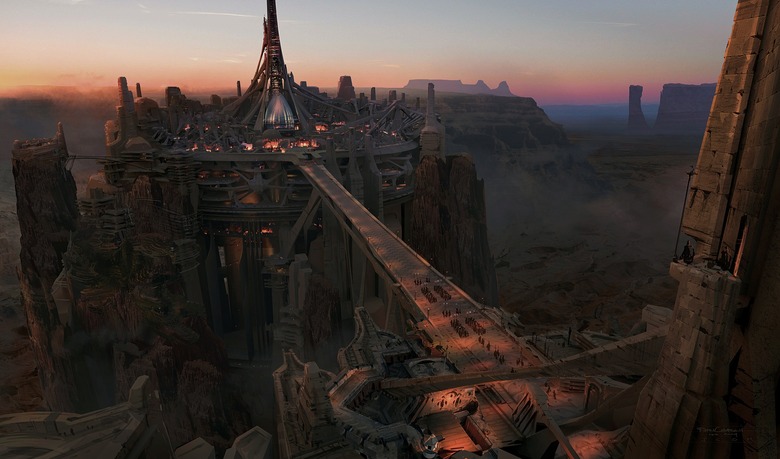 On June 20th, I flew to San Francisco to visit Barsoom Studios, in an office building minutes sown the road from Pixar Animation Studios, to see the first footage from John Carter, a big screen adaptation of Edgar Rice Burroughs' classic sci-fi novel  A Princess of Mars.
In a screening room, Finding Nemo/Wall-E director Andrew Stanton gave us a powerpoint presentation explaining why and how he became involved in the project, and the unique methods they used to "shoot" the film (you can read a transcript of Andrew's complete presentation and Q&A elsewhere on /Film). We screened a couple scenes from the movie, and the teaser trailer which will be attached to Harry Potter and the Deathly Hallows Part II (expect to see it online on Thursday, July 14th).
After the jump you can read my brief thoughts, followed by  a video blog I recorded with Frosty from Collider (who admits he knows nothing about the source material) and Eric Vespe (better known as Quint from Ain't It Cool, who knows way way way more than I will ever know about the source material). So we have a good spread of opinions based on a wide range of expectations and knowledge of the source material.
Concept art:
My brief thoughts:
I'm beyond excited to see Andrew Stanton's live-action feature debut, as I've been a huge fan of his animated work at Pixar. He certainly has the passion for this project, and seems like the best filmmaker working today suited to bring the material to the big screen. While I was not impressed by the teaser trailer which you will see on Thursday, the White Ape sequence was damn exciting and the concept art we looked at featured an awesome mix of steampunk-like weapons and a floating city unlike that ever seen in live action.
Stanton doesn't want to ruin the film by showing too much and is keeping his hands guarded. I respect that attitude as we're now seeing every exciting slice of any given film in trailers and tv spots before the movie releases wide. However, I feel his hesitation leaves me unable to say much more. I haven't seen enough yet, and likely won't until the months leading up to release. The little I have seen has me interested but also hesitant until I see a bit more.
I also think Disney has challenges in marketing this film. The movie is based on a property which has been an influence on a lot of the popular science fiction and fantasy works of the last century, and it would be easy for the layman to write this off as an Avatar-copy. I think the public needs to be educated as to the important legacy the original novel/series has had on modern storytelling, or else the story could play as derivative when in actuality, its the complete opposite.
Video Blog:Chapter marks
00:00 Introduction
00:25 What is John Carter?
01:20 Andrew Stanton and Pixar's "involvement"
02:00 First part of a potential franchise
02:30 Talking about the footage
04:30 The White Ape sequence
05:25 Shooting in the deserts of Utah rather than green screen stages
06:00 Performance Capture for the Martians will actually just be reference for "Animation"
06:45 Drawings of John Carter from the filmmakers/screenwriters childhoods
07:55 Not being 100% faithful to the books
08:30 Giving depth to the simple archetype characters
09:20 The uber realism environment vs. big fantastical
10:00 Almost steampunk-like props and environments
10:30 Casting attractive non-star male and female leads
11:10 Reaction to the teaser trailer
11:35 Sci-fi that doesn't look like its sci-fi, and changing the title from "John Carter of Mars" to "John Carter"
12:30 What the teaser should have been, and how they should promote the film
14:00 They need to sell the book's legacy, or the movie might feel derivative
14:45 Will be released in 3D, a completely different post-3D process
15:50 Animation and CG usually looks fantastic in 3D
16:40 Quint expresses doubts about the film in his bottom line reaction
17:20 Peter has mixed feelings, was amazed by the White Ape sequence, but didn't see enough
18:15 Frosty was more excited seeing the Concept art than he was the footage, agreed that we didn't see enough
18:55 Trailer song: Peter Gabriel covering Arcade Fire
19:20 Andrew Stanton is an absolute movie nerd
20:00 Stanton really cares about the property, this is his passion project
Official Info:
JOHN CARTER
Genre: Action-Adventure
Rating: TBD
Release Date: TBD
Cast: Taylor Kitsch, Lynn Collins, Samantha Morton, Mark Strong, Ciaran Hinds, Dominic West, James Purefoy, Daryl Sabara, Polly Walker, Bryan Cranston, with Thomas Haden Church and Willem Dafoe
Director: Andrew Stanton
Producers: Jim Morris, Colin Wilson, Lindsey Collins
Screenplay by: Andrew Stanton & Mark Andrews and Michael Chabon (credit not final)
Based on the story
"A Princess of Mars" by: Edgar Rice Burroughs
From Academy Award®–winning filmmaker Andrew Stanton comes "John Carter"—a sweeping action-adventure set on the mysterious and exotic planet of Barsoom (Mars). "John Carter" is based on a classic novel by Edgar Rice Burroughs, whose highly imaginative adventures served as inspiration for many filmmakers, both past and present. The film tells the story of war-weary, former military captain John Carter (Taylor Kitsch), who is inexplicably transported to Mars where he becomes reluctantly embroiled in a conflict of epic proportions amongst the inhabitants of the planet, including Tars Tarkas (Willem Dafoe) and the captivating Princess Dejah Thoris (Lynn Collins). In a world on the brink of collapse, Carter rediscovers his humanity when he realizes that the survival of Barsoom and its people rests in his hands.
Notes:
Edgar Rice Burroughs was born in Chicago and is best known for writing and creating Tarzan—still one of the most successful and iconic fictional creations of all time. "John Carter" is based on Burroughs' first novel, "A Princess of Mars."
Academy Award®–winning director/writer Andrew Stanton directed and co-wrote the screenplay for "WALL•E," which earned the Academy Award® and Golden Globe Award® for Best Animated Feature of 2008. He was Oscar® nominated for the screenplay. He made his directorial debut with "Finding Nemo," garnering an Academy Award nomination for Best Original Screenplay and winning the Oscar for Best Animated Feature Film of 2003. He was one of the four screenwriters to receive an Oscar nomination in 1996 for his contribution to "Toy Story," and went on to receive credit as a screenwriter on subsequent Pixar films "A Bug's Life," "Toy Story 2," "Monsters, Inc.," "Finding Nemo" and "WALL•E."
The award-winning below-the-line team includes Production Designer Nathan Crowley, Oscar®- nominated for both "Dark Knight" and "The Prestige," and Costume Designer Mayes Rubeo, whose work is showcased in "Avatar" and "Apocalypto."
Michael Chabon, who won the Pulitzer Prize in Literature for his novel "The Amazing Adventures of Kavalier and Clay," is a co-writer on the screenplay.
Award-winning composer Michael Giacchino has received numerous accolades for his work on previous Disney•Pixar films "Up" (Oscar® winner, Best Original Score; BAFTA winner, Best Music; Golden Globe® winner, Best Original Score for a Motion Picture; GRAMMY® Award winner, Best Score Soundtrack Album), "Ratatouille" (GRAMMY Award winner, Best Score Soundtrack Album; Annie Award winner, Best Music in an Animated Feature Production; Oscar nomination, Best Original Score) and "The Incredibles" (Annie Award winner, Best Music in an Animated Feature Production; GRAMMY nomination, Best Score Soundtrack Album).
John Carter (Taylor Kitsch), who is inexplicably transported to mysterious and exotic planet Mars, becomes embroiled in a conflict of epic proportions and discovers that the survival of the planet and its people rests in his hands.