Johnny Depp Almost Ready To Sign For 'Pirates Of The Caribbean 5;' Has Made $350 Million From Franchise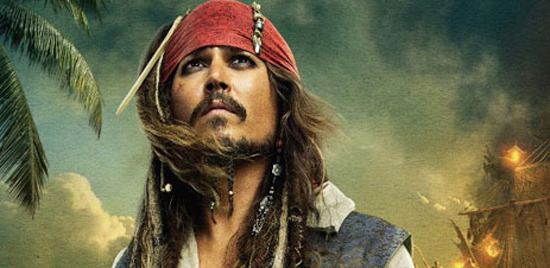 Even though I more or less was bored out of my mind during Pirates of the Caribbean: On Stranger Tides, I'd show up for a fifth movie in a second. There's just something inherently exciting about that world and that character. And despite the film being a critical flop (33% on Rotten Tomatoes) Disney knows I'm not the only one. On Stranger Tides is a bonafide, worldwide box office phenomenon that just became the seventh highest grossing film in international history. That – and the fact that he's reportedly made $350 million off the four films – is probably why, despite some earlier reports that he wanted to wait, Johnny Depp is now close to signing a deal to star in Pirates of the Caribbean 5. Read more after the jump.
The Wrap first reported Depp's latest intentions but, even if it doesn't happen soon, his signing is inevitable. He's made $350 million off the four movies so far (so says another story by The Wrap) and a script for the film written by Terry Rossio has been done for a few months. There is no way, after the continued box office success of On Stranger Tides and Depp's personal windfall, that the two wouldn't continue the franchise.
Plus, On Stranger Tides obviously ended with the set up for a sequel (spoiler coming) as after the credits it showed Angelica (Penelope Cruz) finding the Jack Sparrow voodoo doll on the small deserted island.
No one would officially comment on the progress, according to The Wrap. As for Depp himself, he isn't available for a while as he's currently shooting Dark Shadows with Tim Burton and then most likely moving on to Jerry Bruckheimer's other Disney tentpole, The Lone Ranger, scheduled for release December 21, 2012. That means the earliest we'd see Captain Jack again would be 2013. Then there's the little issue that a director has not yet been signed. There was a rumored short list a few weeks back but that also seems like a pipe dream with Rob Marshall likely to return.
What do you make of all this? Do you think there's a way to salvage the franchise or were you a fan of On Stranger Tides and looking forward to seeing the next page in the saga?