The Story Of Two Unused Official 'Super 8' Posters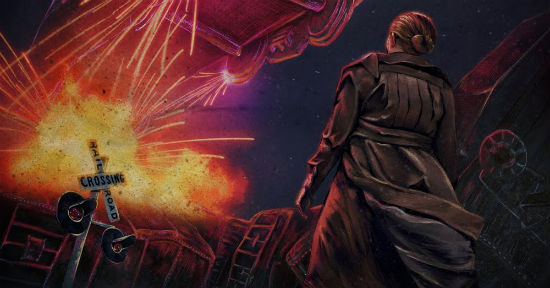 Much has been said about the posters for J.J. Abrams' Super 8 and now we'll continue to say. The first poster was a total tease revealing almost nothing. A later image was thought to possibly give away too much. And, at one point, half the internet was fooled by a Drew Struzan-esque fan poster. Well, Struzan's presence is alive and well in these two posters made by Daniel Skubal and Veronica LaPage. Unlike the aforementioned fan image, though, these posters were legitimately commissioned by Bad Robot for use in the marketing of the film. They simply weren't chosen by Abrams in the end. Even so, you can see them in their full glory and read the great story of how artists Skubal and LaPage got involved after the jump.
Thanks to First Showing for alerting us to this story, which they found on Skubal's blog: Living in Cine. First thing's first. Here are the posters.
Now, instead of just flat ripping off the entire blog post that Skubal wrote, we'll just excerpt a piece to tease it and then urge you to head over to his site to not only read the rest, but see several different versions of each of these posters as they made their way to the final images you see above. Here's a piece of the story:
A couple weeks ago, I received a text from my friend saying "Make sure you answer your phone when I call you." I happened to be at a barbecue and when my phone started ringing, I politely excused myself from the table."Dan, I just talked to my buddy who works at Bad Robot. He remembered your poster series and... They want you to try a crack at a poster design for Super 8!"Silence. A wave of excitement, energy, and just sheer terror flushed over me.He continued to tell me that I may be getting a call from either his buddy or J.J.'s producer, Bryan Burk in the next few minutes, so to be available. I waited for about a half hour, a huge knot tightened up in my stomach and I began to worry.Those of you who have ever been to Chicago know that AT&T's service here is pretty consistently terrible throughout the city. It's especially bad in my area.Thoughts raced through my head as I waited for the call. "Had they already tried calling but my horrible service didn't connect the call?" "Had they changed their mind?" "Is this really just an elaborate trick?" "What am I going to say if he does call?" "Is it too windy out here? What if he can't hear me?!" "Does my breath smell bad? What if he smells it through the phone? SHIT!"At this point the rest of the people at the barbecue knew what was up and they were all giving me distance so I wouldn't have a panic attack or something.The phone rings, and it's got an Indiana area code on it. A bit of calmness sweeps over me. "Good, it's not Bryan Burk himself," I thought.I answered it and although my reception was bad and I was struggling to decode what he was telling me like it was a World War II cypher, I got the jist of the details."So you think you can do this?" He asked."I'm going to get started on this immediately."
For the rest of the story, head over to Living in Cine.
After reading the full account, it's nice to know that Skubal and LaPage aren't soured on the experience and only see it as a positive. I just think that, in the end, their lack of knowledge of the story was their downfall, which is not their fault in the slightest. If they had seen the movie, something Bad Robot and Paramount were obviously cautious about, they might have come up with some more all encompassing images.
What do you think of these posters?