'Conan The Barbarian' UK Trailer And New Photos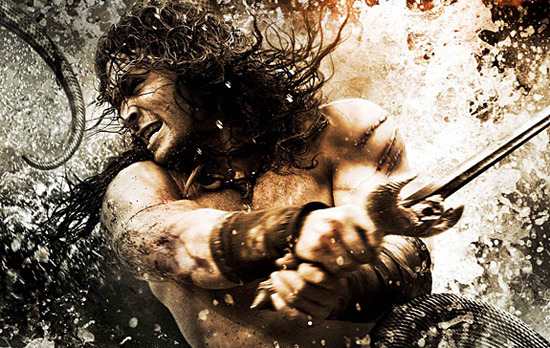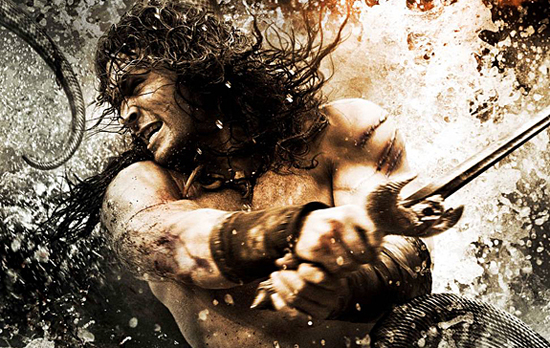 Here's the latest trailer for Conan the Barbarian, in which Jason Momoa, under the direction of Marcus Nispel, seeks to reanimate the cinematic vitality of Robert E. Howard's signature character. Arnold Schwarzenegger created the version many know and love, and he leaves some big shoes to fill. Previous trailers and pics have left us doubtful that it is really going to work. (But also hopeful for a positive outcome.) Now take a gander at the latest trailer, from the UK, in which a young Conan picks up a sword on his way to becoming 20-something Conan. See if this does the trick.
There is a lot of footage here we've seen before, but also some new bits featuring some of the co-stars, particularly Stephen Lang as the Big Bad. (Rachel Nichols, Rose McGowan, Saïd Taghmaoui and Ron Perlman are also in the cast.)
The production and costume design continues to get my attention — that's been the best part of the production so far as we've seen images and footage emerge. And a few moments suggest Jason Momoa might have created his own recognizable take on the character. Beyond that, there is also a lot of generic Pathfinder-esque action and cinematography. We'll see how the balance works on August 19 when Conan arrives in 3D.
[HeyUGuys]
A quest that begins as a personal vendetta for the fierce Cimmerian warrior soon turns into an epic battle against hulking rivals, horrific monsters, and impossible odds, as Conan realizes he is the only hope of saving the great nations of Hyboria from an encroaching reign of supernatural evil.
Here is a handful of new images from the film: