Casting Bits: John Malkovich In 'Siberian Education;' Clifton Collins Jr. And Wendell Pierce In 'Parker;' Daniel Auteuil In 'The Lookout'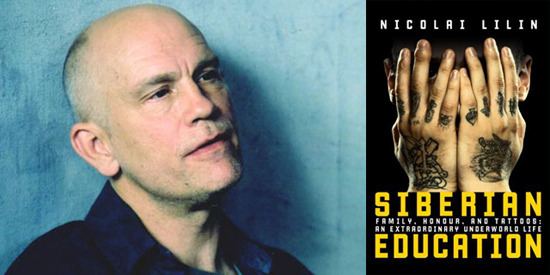 After the long Fourth of July weekend we don't have a lot of news on the casting front, but there are a few good stories to share, and they're all in a similar vein. Today, the theme is crime pictures. After the break you'll find info on the following:
John Malkovich is taking the lead in Siberian Education, which chronicles the culture of crime in a small community near the Ukraine.
Parker, the new screen version of Richard Stark's classic crime character, gets two supporting players.
And French film The Lookout casts Daniel Auteuil as a cop out to catch a sharpshooter who ruined a well-laid police plan.
Variety reports that John Malkovich will play Grandfather Kuzja in Siberian Eductation, which Gabriele Salvatores (I'm Not Scared) will direct based on the autobiographical book by Nicolai Lilin. (Stefano Rulli, Sandro Petraglia and Gabriele Salvatores scripted.)
The book follows "the Mafia-like Urka community in the small republic of Transnistria, between Moldova and Ukraine," and the John Malkovich character will be teaching his grandson Kolyma (Arnas Fedaravicius) about the life and customs of 'honest criminals.' The story takes place from the mid-'80s to the mid-'90s, and seems like it could be like something that draws a bit from Gomorrah (see that one streaming now) and Cronenberg's Eastern Promises. John Malkovich was one of the few fun parts of Transformers: Dark of the Moon as he grew great white-sized jaws to better chew the scenery, but I'm looking forward to seeing him in something that demands a bit more measured performance.
Next up is Parker, the latest screen incarnation of Donald Westlake's fan-favorite antihero. (The books are written under his no-nonsense penname Richard Stark, and the character was previously seen on screens in variously altered forms in films like Point Blank, Payback and Full Contact.) Jason Statham is playing the lead and Jennifer Lopez is on board. Now Clifton Collins Jr. and Wendell Pierce have joined the cast, according to Variety. We don't have their roles but they're exactly the sort of reliable character actors I'd expect to see Taylor Hackford looking to as he fills out the cast.
John J. McLaughlin (Black Swan) wrote the script, and while early reports made the film sound like a new version of The Hunter, info on Jennifer Lopez's character makes this appear to be in fact jumping off from the novel Flashfire. Here's the plot of that one:
When Parker joins forces with three other crooks to rob a Nebraska bank, he's prepared for a gentlemanly division of the proceeds, not for a double-cross. But his colleagues have other plans for his share: it will be their seed money for a $12 million Palm Beach jewel heist. What's Parker to do but make his own plans to steal the Palm Beach loot from the double- crossers? Working his way across the Southeast in a series of carefully executed robberies and changes of identity, Parker arrives in Palm Beach, where he finds more barriers along the path of revenge than he could have imagined. Chief among them: a diabolically clever plan by his former partners; a real estate agent named Leslie with an unfortunately sharp sense of character; and a team of professional hit men out for Parker's blood (but why?).
Finally, as a huge fan of Michael Haneke's Cache (my fave film of 2005) I'm excited at the prospect of seeing Daniel Auteuil move back out of lame comedies into a potentially meaty role. (It's a bit like seeing Robin Williams take the occasionally challenging role these days.) He'll be in Le Guetteur/The Lookout, co-starring with Mathieu Kassovitz under the direction of Michele Placido.
The film is reportedly inspired by Heat, and has a plot that goes like this: "Detective Mattei (Auteuil) is about to arrest a notorious gang of bank robbers, when a lone marksman (Kassovitz) hiding on the rooftops guns down an army of cops, enabling his accomplices to escape. Unfortunately, one of them is seriously injured and the rest of their plan is jeopardised. A manhunt is launched." [Cineuropa via The Playlist]