Photos: Harry Potter Tribute Art Exhibition At Gallery Nucleus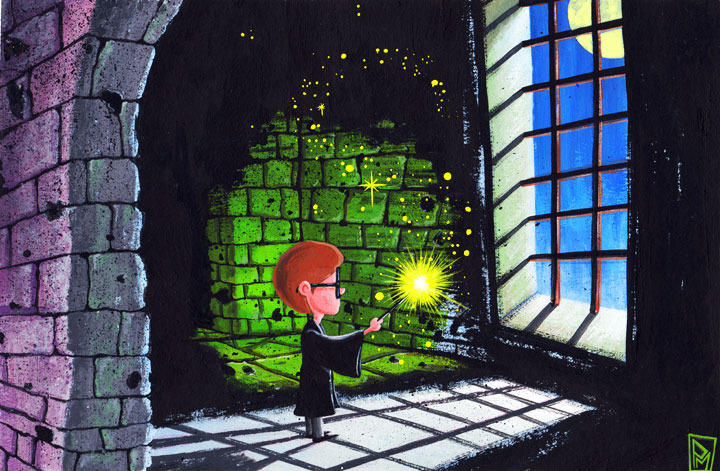 Whether you care to admit it or not, Harry Potter means something special to all of us. Maybe you're a huge fan who can recall each time you bought a new book, saw a new movie, or discussed the series with a friend. Then there are the converts who, at some point, had the series recommended to them and subsequently devoured the franchise with rabid vigor. Yes, even you non-fans have memories – negative ones count too – of the Potter phenomenon, which has been a major part of popular culture since the late Nineties. That phenomenon is closing a major chapter later this month when the final film, Harry Potter and the Deathly Hallows Part 2 hits theaters and Gallery Nucleus in Alhambra, CA is celebrating.
They'll host a massive Harry Potter Tribute Art Exhibition from July 9 through August 1 which features over 100 works from over 50 artists, including signature Potter artists Drew Struzan and Mary Grandpre. After the jump, read more information about the exhibit and see just a sampling of the art that'll be on display and for sale.
The exhibit opens from 7-10 p.m. July 9 at 210 East Main St, Alhambra, CA and will be open through August 1. Visit Gallery Nucleus's official site for more info. And, for even more art that's in the show, check out the exhibit's blog, which is where the below images all came from.
Mouse over each piece to see the artist's names.
In addition to just the exhibit, the opening reception will have a bunch of cool events. Admission is $2.
EVENT FEATURES:
Complimentary Butterbeer (alcoholic and non-alcoholic)
Harry Potter Trivia Contest (sign in at gallery entrance, contestants picked at random)
Snitch Seeking Competition
Raffle prizes and giveaways (hourly)
Mystery flavored Jelly Bellies tasting station
Hogwarts Themed Photo Booth
Costume Contest (contestants sign in at gallery entrance)(3 staff judges. Winner based on: Presentation, Likeness, Craftsmanship)
Pop up shop by Whimsic Alley
EVENT SCHEDULE:
7pm – Exhibition Opens
7:15pm – Photo Booth Opens
8pm – 1st Raffle Giveaway (Gryffindor Scarf & Beanie Set)
8:15pm – Trivia Contest Begins (Magic Wand)
8:15pm – Snitch Seeking Contests Begin ($20 gift certificate & more)
9pm – 2nd Raffle Giveaway (Warner Bros Studio Harry Potter Exhibit Tour)
9:15pm – Costume Contest (The Sorting Hat)
10pm – Grand Prize Raffle Giveaway (Exclusive print by Mary Grandpré)
Which of these pieces are your favorites? Are you excited for the exhibit?
Additional sources: The Daily What, Arrested Motion