'Spy Kids: All The Time In The World' Trailer #2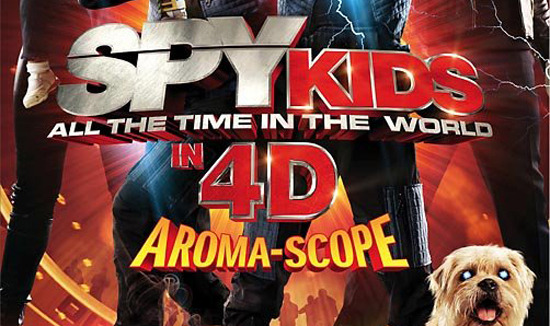 So there is a fourth Spy Kids movie, which was shot in 3D but also features a '4D' element Robert Rodriguez and Dimension are calling 'AromaScope,' and I'm not sure what else to say about it. This is a movie for kids, pure and simple, with Jessica Alba playing either a secret agent whose emotional response to the world around her has been damaged by some severe interrogation, or a suburban mom who can't go six hours without a valium. Or perhaps both. There's a new trailer that flogs the AromaScope angle and you can see, but not smell it after the break.
If, for some reason, you want to see smells in HD, Yahoo can hook you up. Spy Kids: All the Time in the World opens on August 19.
On the surface, Marissa Cortez Wilson has it all...married to a famous spy hunting television reporter, a new baby and intelligent twin step kids. But in reality, trying to mother Rebecca and Cecil, who clearly don't want her around, is her toughest challenge yet. Also, her husband, Wilbur, wouldn't know a spy if he lived with one which is exactly the case — Marissa's a retired secret agent.
Marissa's world is turned upside down when the maniacal Timekeeper threatens to take over the planet and she's called back into action by the head of OSS, home of the greatest spies and where the now-defunct Spy Kids division was created. With Armageddon quickly approaching, Rebecca and Cecil are thrust into action when they learn their boring stepmom was once a top agent and now the world's most competitive ten year olds are forced to put their bickering aside and rely on their wits. With a little help from a couple of very familiar Spy Kids, Carmen and Juni Cortez, and some mind-blowing gadgets, they just may be able to save the world and possibly bring their family together while they're at it.