The Critic/Audience Divide Expands Further With 'Transformers 3'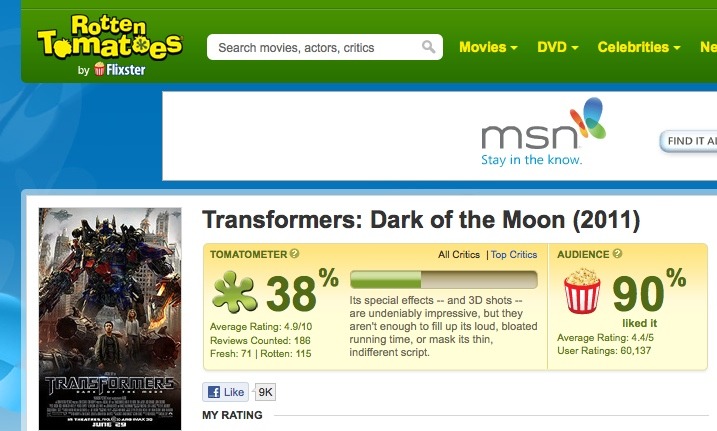 Film critics have been overwhelmingly negative towards Michael Bay's latest film Transformers: Dark of the Moon, yet average moviegoers seem to love the film. Transformers 3 earned a rotten 38% rating on Rotten Tomatoes with 186 critic reviews counted, yet 90% of the 60,137 Flixter users liked the threequel.
It should be noted that the user rating on IMDb is 7.0, but the sample of user votes is much less — around 5,300. As you can probably figure out, any survey of a large group is greatly improved if the sample is larger. Here is the breakdown of 5,322 IMDb votes: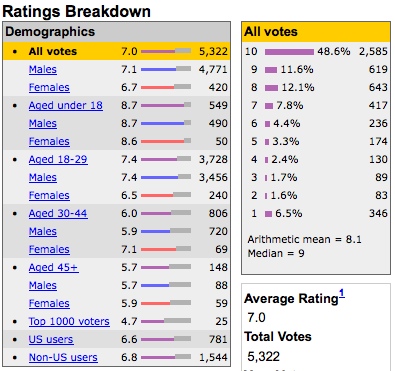 No big surprises: Males like the movie a little bit more than females. Those under 18 years old seem to love the movie, and those over 30 years old seem to dislike the film the older the age. And the top 1000 voters on IMDb (probably the non-critic equivalent to the top critics on RT) did not like the movie at all.
The Flixter numbers are far more damning in critic/moviegoer divide. I'm guessing that Flixter's user base is mostly under 30-years old, as the company hit it big in the Facebook app space early on and also has a popular iPhone app.
...And some of my colleagues wonder why critics are becoming less relevant, and why more moviegoers are making their decisions based on friend recommendations (be it in real life, or over Twitter/Facebook) rather than critical analysis.
For the record, I very much enjoyed the spectacle which is Transformers: Dark of the Moon. Not only is it the best live-action 3D from any movie since Avatar, but the last 50 minutes an epic action sequence that fills the action hole that I've been left craving this Summer. Yes, the second act drags a bit, and the screenplay features some ridiculous twists and unexplainable moments of comic relief... But for me — the fun far out-ways the bad, and the 3D must be experienced on the big screen.