VOTD: 'Plot Device,' A Short Film About The Power Of Cinema (And Editing Software)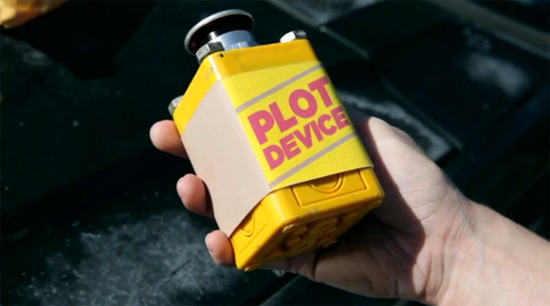 The short film Plot Device is, admittedly, an ad. Produced by software maker Red Giant to show off the capabilities of the company's Magic Bullet Suite 11, the film puts a mysterious object — a Plot Device — into the hands of a would-be filmmaker. When activated, the device turns reality into cinema, full of unexpected twists, unwelcome action, and alien goop. (And a couple Garden State rejects, just to make sure all bases are covered.) In short, this is a nine-minute movie that races through a half-dozen film genres, and does so with humor and panache. Check it out below.
And here's the 'making of':
The film's Vimeo page points to this summation of the film:
"Plot Device," a nine minute short film directed by Seth Worley, and executive produced by Red Giant's own Aharon Rabinowitz. Aharon and Seth co-wrote the film, working together in close collaboration throughout the project. Plot Device was created to demonstrate first hand the high caliber work that can be created when using Magic Bullet Suite 11, even on a limited budget.
[via io9]