Sony Buys 'Shadow Runner,' Sets Chris Hemsworth To Play Elite Military Operative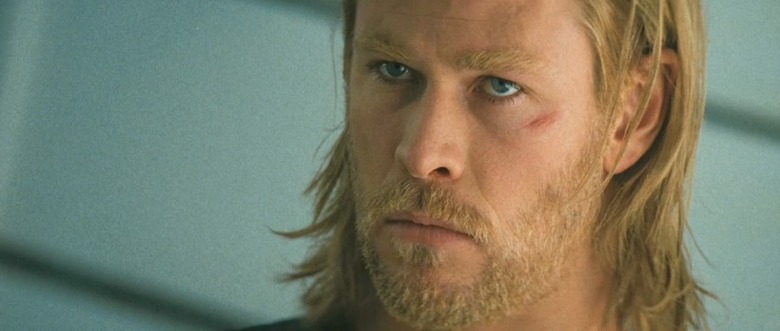 After his star-making turn in Thor, Chris Hemsworth is likely to find himself in the same sort of position his Star Trek co-star Chris Pine did a couple years back. Like Chris Pine, Hemsworth has a couple films in the can that might be released in the future (and his are higher profile: Red Dawn and The Cabin in the Woods) and he's already cast in a few other big projects, like Snow White and the Huntsman and that little movie The Avengers. In fact, it looks like he's already outpacing Chris Pine when it comes to lining up jobs.
Now the actor is looking like the latest surfer on the wave of reality-based ensemble military thrillers. Sony has just picked up a pitch called Shadow Runner (sounds like a mid-tier video game) and set Chris Hemsworth to star. He'll play an elite military type who takes on "impossible tasks." Does Paramount have the copyright on impossible tasks thanks to the M:I franchise?
Deadline says Beau Flynn and Tripp Vinson will produce, and that the film is a combination of influence from an idea by screenwriter Hossein Amini (Drive, one draft of the new Jack Ryan movie) and a real event:
an Israeli assassination team targeted a Hamas leader whom the Israelis believe murdered several soldiers and helped stockpile Iranian-made missiles. He was tracked to Dubai, and the Israelis managed to smuggle in an entire 17-person hit team to take him out in the corridor of a five-star hotel. The operatives were captured on a hotel security camera trailing after the victim, reemerging and getting on the elevator after he was killed.
That won't be the plot of the film, but it's that sort of action that we can evidently expect to see. This seems like a natural fit, as it would basically be Hemsworth moving from playing a fantasy-based superhero to one vaguely (very vaguely, I expect) grounded in reality. Thor suggests he'll be able to crush it.