Thomas Jane Cast In 'The Lycan,' Talks About Losing His Role In 'Headshot'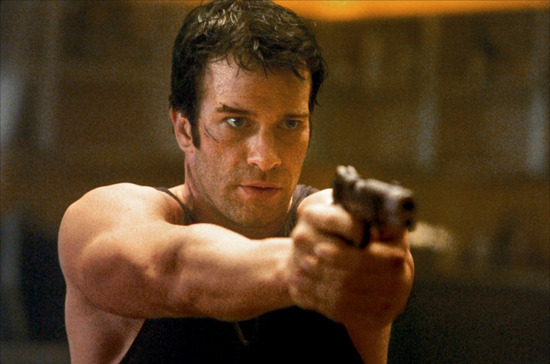 Thomas Jane isn't a particularly cautious guy when acting as an interview subject, which is what makes him so much fun to talk to. (See also: Shia LaBeouf.) And he's certainly got stuff to talk about now, because until recently he was meant to co-star in the film once called Headshot, which Walter Hill will direct with Sylvester Stallone playing the lead role. The film has lost that title, and it also lost Thomas Jane at some recent point.
The scuttlebutt was that Joel Silver had wanted to follow what he saw as the buddy-movie formula, and so cut Thomas Jane loose in favor of a non-white actor. Turns out that was exactly the case, and Thomas Jane talks about that, as well as his new werewolf movie, after the break.
This all comes from Collider, which has a long and detailed interview with the actor. First up, let's hit the new info: Thomas Jane has a role in The Lycan, a werewolf movie. He says,
I'm doing a werewolf movie called, The Lycan, which is a gothic werewolf romance set in the late 1700s. it's fuckin' cool. It's basically Alien, set in a castle, with werewolves.
And then there is the movie formerly called Headshot ,which is based on the Matz and Colin Wilson graphic novel Bullet to the Head. In the beginning, things were OK:
Well, Wayne Kramer brought me into the project and when Wayne left the project I suggested Walter Hill to Stallone and the next week they hired Walter Hill and I was very happy about that because I've always wanted to work with him.
But then Joel Silver got involved. That might be a good thing for the film, as it landed the movie a distribution partner in Warner Bros. But it wasn't such a good thing for Thomas Jane:
Joel Silver came onboard the project and said that he has a quote-unquote 'formula' for these quote-unquote 'buddy movies' and it has to be a white guy and a quote-unquote 'ethnic guy.' And they relieved me of duty and basically paid me off, which I was really upset about, you know? I didn't get a call from Stallone. I was a little upset about that. Maybe they didn't want anybody on the movie with a bigger dick than him.
He's gracious enough about the end result, even when talking about original director Wayne Kramer moving on:
Well, Wayne Kramer is very dark, very extreme, which I personally like. But I know that Stallone is a bit more of a traditionalist. That doesn't make it worse it just makes it different. Walter Hill for my money was the man to fulfill both. He can do great with character and he's great with action. So he is the man...I hope they can still make a great film without me.
To recap the basics of Headshot (or whatever it will be called), Walter Hill has been rewriting the Alessandro Camon script, which has the following plot:
[Stallone teams]with a young NYPD detective in a high-stakes investigation that leads from the dingy back alleys of New Orleans all the way to the power corridors of Washington, D.C. The unlikely duo, brought together by two vicious murders, take on all who stand in their way, and are willing to sacrifice everything to exact revenge.
So: please talk amongst yourselves about this particular choice made by Joel Silver. It's not often that we hear about white actors being fired in favor of a non-white talent, and while the story certainly has the potential to be a bit flammable, I can't get too worked up about it. It's a drag for Thomas Jane, but this is the sort of decision that is part of the business. People have been fired from gigs for a hell of a lot less. Do you feel more strongly about the situation?