Watch Kevin Pollak's Two And A Half Hour Long Interview With Damon Lindelof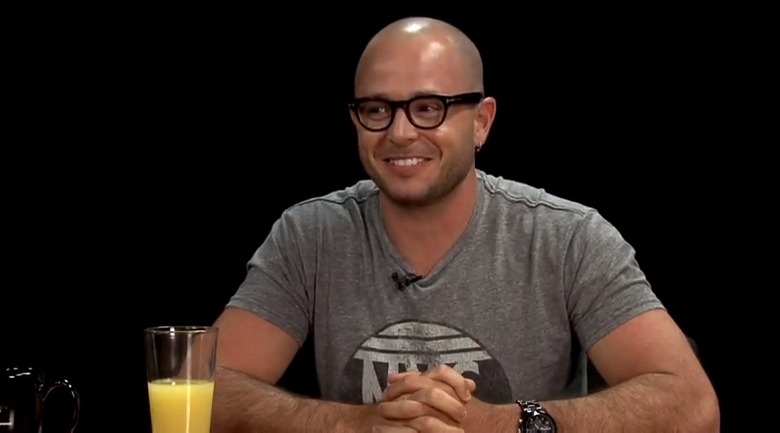 As you know, we're big fans of long form interviews at /Film. In the past, we've posted extended 30-minute and possibly even one-hour interviews found on shows as Charlie Rose and other corners of the interwebs. Its rare that we see a filmmaker or screenwriter interviewed for anything longer than that. Well, this week The Kevin Pollak Chat Show had a 2 hour and fourty minute interview with Damon Lindelof, co creator and showrunner of Lost, producer for Star Trek, co-writer/producer for Star Trek 2, writer of Jon Favreau's Cowboys & Aliens and Ridley Scott's Prometheus.
During the interview, Lindelof talks about his twitter "feud" with Game of Thrones author George RR Martin, his inspirations, learning at NYU, his early life trying to make it in Hollywood, Stephen King and King film/TV adaptations, Star Wars vs. Star Trek, the creation of Lost and working with JJ Abrams, collaborating with Roberto Orci and Alex Kurtzman on Cowboys & Aliens, working with Ridley Scott on Prometheus and how it connects to the Alien films, how the writer's strike allowed him to produce Star Trek while also working on Lost, brief thoughts on the newly announced 1952 project he's working on for Disney, his Larry King impression, and much more. Watch the whole interview embedded after the jump.
TrekMovie was nice enough to go through the interview and create chapter marks:
[23:00] Intro of Lindelof
[26:00] Lost, including criticism of finale (and talk about other show finales), and "feud" with George RR Martin
[50:00] Inspirations, including (George Lucas & Stephen King)
[59:00] Early writing and time at NYU
[1:07:00] Early life in Hollywood
[1:15:00] More on Stephen King and King film/TV adaptations
[1:26:00] Admits likes Star Wars more than Star Trek (in series of This v That questions)
[1:27:00] Genesis Lost and his starting his JJ Abrams collaboration, and becoming showrunner, and even more Lost
[2:10:00] Cowboys & Aliens and working with Jon Favreu, and collaborating with Orci, Kurtzman and other writers (on C&A)
[2:18:00] Prometheus (and working with Ridley Scott) and its connection to Alien franchise
[2:24:00] How the writer's strike allowed him to produce Star Trek while also working on Lost
[2:25:00] More on Ridley Scott and Prometheus [fun fact: took 2 weeks to write first draft of script]
[2:34:00] Talks briefly about newly announced 1952 project with Disney, clarifies he won't be working on it until after the Star Trek sequel
[2:38:00] Wrapping up and outro
[2:43:00] Damon playsLarry King Game (doing bad Larry King impression)