David Strathairn Joins Steven Spielberg's 'Lincoln'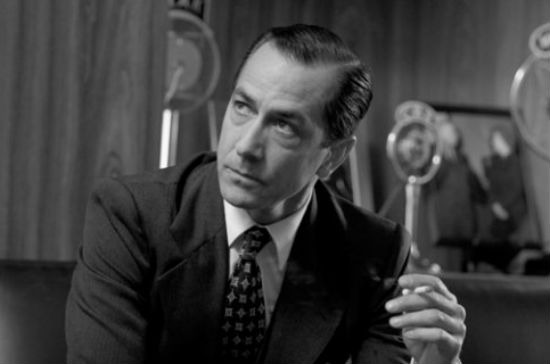 We may receive a commission on purchases made from links.
Emmy-winning, Oscar-nominated actor David Strathairn has just been cast as Secretary of State, William Seward in Steven Spielberg's Lincoln, which will star Daniel Day-Lewis at the legendary 16th President of the United States. The film is aimed at a late 2012 release. Read more after the jump.
Spielberg, who plans to shoot the film "this fall in Virginia with an anticipated fourth quarter release in 2012" had the following to say about Strathairn:
Throughout his career, David Strathairn has consistently delivered performances of strength and character. That's why I am so pleased that he will portray the Secretary of State, who became such a dominant figure in Lincoln's 'team of rivals' cabinet.
Seward was a Governor of New York, United States Senator and Secretary of State under both Lincoln and Andrew Jackson. He's best known as "an outspoken abolitionist and one of the most loyal members of Lincoln's wartime cabinet. " Here's how he's described by Doris Kearns Goodwin, the author of Team of Rivals, the book on which Tony Kushner's script for Lincoln is based:
A celebrated senator from New York for more than a decade and governor of his state for two terms before going to Washington, Seward was certain he was going to receive his party's nomination for president in 1860. The weekend before the convention in Chicago opened he had already composed a first draft of the valedictory speech he expected to make to the Senate, assuming that he would resign his position as soon as the decision in Chicago was made. His mortification at not having received the nomination never fully abated, and when he was offered his cabinet post as secretary of state he intended to have a major role in choosing the remaining cabinet members, conferring upon himself a position in the new government more commanding than that of Lincoln himself. He quickly realized the futility of his plan to relegate the president to a figurehead role. Though the feisty New Yorker would continue to debate numerous issues with Lincoln in the years ahead, exactly as Lincoln had hoped and needed him to do, Seward would become his closest friend, advisor, and ally in the administration. More than any other cabinet member Seward appreciated Lincoln's peerless skill in balancing factions both within his administration and in the country at large.
Strathairn was nominated for an Oscar for his work in George Clooney's Good Night and Good Luck and won and Emmy for his performance in HBO's Temple Grandin. Never one to stray away from either a very independent or very big budget film, it'll be fantastic to see Strathairn opposite Day-Lewis, discussing war, slavery and more.
Add this to Sally Field, who'll play Mary Todd Lincoln, in addition to rumored roles to be filled by Tommy Lee Jones, Joseph Gordon Levitt as well as possibly Hal Holbrook, James Spader, John Hawkes, Tim Blake Nelson, Bruce McGill, Joseph Cross and more, and Mr. Spielberg is certainly going for a very distinguished feel in the film.
As we get closer to the release of Tintin, and the shooting of this, we're sure to find out much more. As it stands now, we have a solid cast, and a obviously solid script by Tony Kushner, based on the Kearns-Goodwin book. Here's the Amazon review of that book just for an idea of what to expect:
The life and times of Abraham Lincoln have been analyzed and dissected in countless books. Do we need another Lincoln biography? In Team of Rivals, esteemed historian Doris Kearns Goodwin proves that we do. Though she can't help but cover some familiar territory, her perspective is focused enough to offer fresh insights into Lincoln's leadership style and his deep understanding of human behavior and motivation. Goodwin makes the case for Lincoln's political genius by examining his relationships with three men he selected for his cabinet, all of whom were opponents for the Republican nomination in 1860: William H. Seward, Salmon P. Chase, and Edward Bates. These men, all accomplished, nationally known, and presidential, originally disdained Lincoln for his backwoods upbringing and lack of experience, and were shocked and humiliated at losing to this relatively obscure Illinois lawyer. Yet Lincoln not only convinced them to join his administration–Seward as secretary of state, Chase as secretary of the treasury, and Bates as attorney general–he ultimately gained their admiration and respect as well. How he soothed egos, turned rivals into allies, and dealt with many challenges to his leadership, all for the sake of the greater good, is largely what Goodwin's fine book is about. Had he not possessed the wisdom and confidence to select and work with the best people, she argues, he could not have led the nation through one of its darkest periods.
Ten years in the making, this engaging work reveals why "Lincoln's road to success was longer, more tortuous, and far less likely" than the other men, and why, when opportunity beckoned, Lincoln was "the best prepared to answer the call." This multiple biography further provides valuable background and insights into the contributions and talents of Seward, Chase, and Bates. Lincoln may have been "the indispensable ingredient of the Civil War," but these three men were invaluable to Lincoln and they played key roles in keeping the nation intact.