Cool Stuff: Tyler Stout 'Captain America' Cover, Mondo 'Transformers: Dark Of The Moon' Poster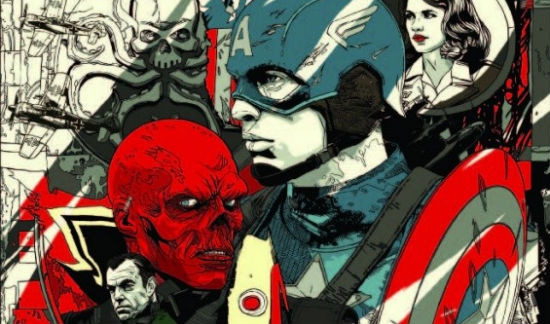 Paramount Pictures has a couple awesome projects in the works this week with Mondo. First up, on Wednesday, comic book stores everywhere will get in copies of Captain America: First Vengeance #4 with cover artwork by fan-favorite artist Tyler Stout. You can see a hint of that above. Then, they've teamed with artist Jesse Phillips to do posters for Transformers: Dark of the Moon. Three thousand copies of the original will be handed out exclusively to attendees of special Tuesday June 28 screenings at Arclight Hollywood in Los Angeles, CA and a variant edition will be sold on @MondoNews Wednesday June 29. See images of all these pieces after the jump.
Here is the Tyler Stout Captain America cover as well as the Phillips Transformers posters. Click on each for bigger versions.
The green Transformers print will be available at the Arclight Hollywood on Tuesday night. The gold one, an edition of 200, will be available Wednesday by following @MondoNews. It's an 18 x 36 print.
As for the Captain America comic, First Vengeance #4, it'll be in stores everywhere on June 29. It's the official prequel comic to Captain America: The First Avenger which is in theaters on July 22. You can click here for more information on the comic itself. Here's the description:
The OFFICIAL comics prequel to the Marvel Studios summer blockbuster continues! As Captain America continues to get closer to uncovering the secret of the Hydra base, his past and the past of his friends continues to unfold. How did Doctor Erskine come to be fighting for the Allies? What's the story behind the Howling Commandoes? And how is the Stark family involved in the creation of the First Avenger? Find out all this and more, written by Fred Van Lente (Amazing Spider-Man, Incredible Hercules) and art by LUKE ROSS (Captain America and the Dark Tower)!
Pretty cool stuff. Are you going to pick up the comic? Attempt to get the Transformers poster?