Sequel Bits: Tom Hanks Confirms 'Toy Story 4,' 'Green Lantern 2' Being Developed, No Shatner In 'Star Trek 2'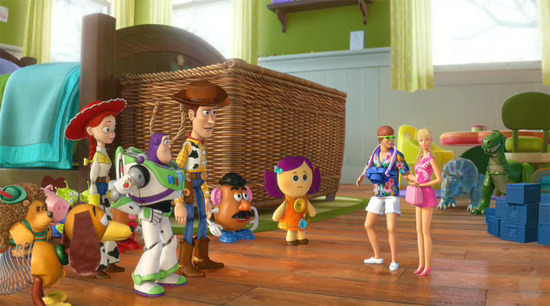 Oh the news that can be made out of one sliver of information. Three sequels, one confirmed and two rumored, have updates today all based on a short quote or nugget of confirmation. Even so, each is interesting in its own right and worth a mention. In today's sequel bits, we've got updates on Toy Story 4, Green Lantern 2 and Star Trek 2 based on these facts:
Tom Hanks says Pixar is "working" on Toy Story 4.
Warner Brothers has reportedly begun developing Green Lantern 2.
William Shatner has come out and said he won't be making a cameo in Star Trek 2.
Want some explanation and context? That's after the break.
Let's start with the most speculative. Tom Hanks has been promoting Larry Crowne, in theaters Friday, and on the BBC Show Breakfast News (via Bleeding Cool) a reporter asked the question, "Will there be a Toy Story 4?" Hanks response was very surprising:
I think there will be yeah. Yeah, yeah. They're working on it now. There you go.
Toy Story 3 was the perfect, logical ending to the trilogy and series. We learned what happens to toys as their owner outgrows them and how they get passed along. If anything, the Hawaiian Vacation short in front of Cars 2 offered a peek into the remainder of the lives of Buzz, Woody, etc. But still, if Pixar has a compelling and worthwhile story to tell, audiences would surely line up to see the film. And Hanks would know before almost anyone. They record voices very early in the process, not to mention that Tim Allen has said he signed for a fourth movie. Is Hanks referring to simple paperwork or actual creative development? We'll have to wait and see.The Hollywood Reporter first broke the news that Warner Bros. "still believes" in the Green Lantern franchise and is already planning a sequel, despite a sharp box office drop off in its second weekend. Beyond that, the article has no concrete information. No screenwriter, release date, etc.  Last year, we reported that Micheal Goldenberg had been hired to write a sequel but, there's no telling if that information is still accurate. Either way, this new confirmation along with Goldenberg's previous hiring shows that Warners was pretty dead set on continuing this franchise no matter what. Was Green Lantern a box office home run? No, but it'll eventually end up turning a profit on its massive budget and with the Harry Potter series going away in a few weeks, Warner Bros. is looking to the DC Comics characters to rake in the cash for years to come. They can't give up just yet. I would also imagine that, if Green Lantern 2 begins development, we might also see a Flash movie soon too.
Finally, William Shatner was recently asked – again – if he'd appear in Star Trek 2, which is scheduled to start shooting later this Fall. Thanks to TrekMovie for this quote:
I've become an acquaintance of J.J. [Abrams] of late...But, I'm afraid no, no I will not be in Star Trek 2.
For some, this is a major disappointment. Many fans speculated if Leonard Nimoy was the focal point of the first film, Shatner could fill the same roll in the sequel. But screenwriters Roberto Orci, Alex Kurtzman and Damon Lindelof have been adamant that they incorporated Nimoy into the first film to keep the canon intact while simultaneously moving forward with the new actors. Bringing Shatner into the mix would probably only confuse things. But... how does he know for sure? Has he read the script? Talked to Abrams? I think Shatner's definitive answer is almost more intriguing than the answer itself.
What do you think about all of this?