'Captain America: The First Avenger' Trailer #2: Chris Evans Becomes A Tool To Forge Freedom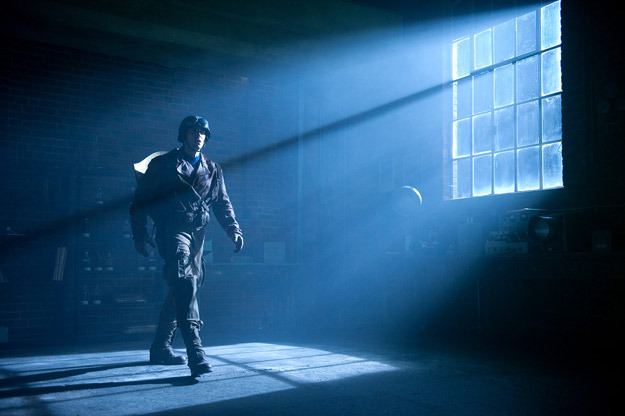 Earlier today we saw a new poster for Captain America: The First Avenger and now the second full trailer, teased over a week ago at the Hero Complex festival in LA, is online. You can see it after the break.
So there are a lot more early first-act details here than we'd seen before, but that's pretty good. I think people can use to be sold on the skinny 'Benjamin Button' Chris Evans, and this trailer does it through a couple of nice moments.
And then 'Forty-Six & 2' by Tool kicks in. That was almost surprising, except for the fact that the band was also used in one of Marvel's Comic Con presentations a couple years back. (For Iron Man 2, if memory serves. Also, given that the song is about a theory of human evolution, it fits reasonably well here.) And then the trailer really kicks into gear and Captain America starts to look like the great summer movie we've been hoping for all year.
Directed by Joe Johnston, Captain America: The First Avenger opens on July 22. It stars Chris Evans, Hayley Atwell, Hugo Weaving, Sebastian Stan, Toby Jones, Samuel L. Jackson, Dominic Cooper, Tommy Lee Jones, Stanley Tucci, Neal McDonough and Derek Luke.
"Captain America: The First Avenger" will focus on the early days of the Marvel Universe when Steve Rogers (Chris Evans) volunteers to participate in an experimental program that turns him into the Super Soldier known as Captain America. As Captain America, Rogers joins forces with Bucky Barnes (Sebastian Stan) and Peggy Carter (Hayley Atwell) to wage war on the evil HYDRA organization, led by the villainous Red Skull (Hugo Weaving.)
Yahoo has the HD QuickTime version, and there's enough detail in this trailer that HD is really the way to go.  How do you think this trailer looks, compared to the first one?