High Resolution Image: Meet Princess Merida From Pixar's 'Brave'

Editor's Update: I have updated the story with a new super high resolution photo officially released by Disney of Brave's main protagonist. Hit the jump to see the full image.
If you pay to see Cars 2 this weekend or in the near future you'll be treated to a teaser for the Pixar film that is due to be released a year from now: Brave, once called The Bear and the Bow. We don't have that teaser online just yet, but yesterday the first teaser poster arrived (complete with a small, misty look at the bear that was once in the title) and now we have good new looks at three of the main characters. Check them out, along with a high-res version of the teaser poster, after the break.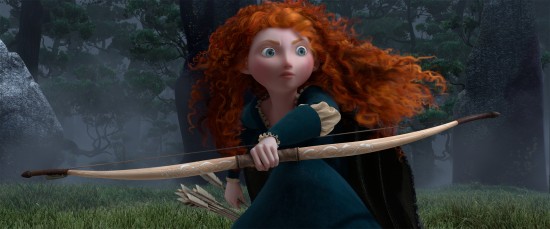 Above you can see Princess Merida (voiced by Kelly MacDonald). We've previously seen art of Merida, but these are better looks at some of the other characters than we've previously had. Compare these to the early character concepts when the film was still The Bear and the Bow.
Here's the synopsis once more. Brave will be released in June 2012.
Brave is set in the mystical Scottish Highlands, where Merida is the princess of a kingdom ruled by King Fergus (Billy Connolly) and Queen Elinor (Emma Thompson). An unruly daughter and an accomplished archer, Merida one day defies a sacred custom of the land and inadvertently brings turmoil to the kingdom. In an attempt to set things right, Merida seeks out an eccentric old Wise Woman (Julie Walters) and is granted an ill-fated wish. Also figuring into Merida's quest — and serving as comic relief — are the kingdom's three lords: the enormous Lord MacGuffin (Kevin McKidd), the surly Lord Macintosh (Craig Ferguson), and the disagreeable Lord Dingwall (Robbie Coltrane).