Ron Howard Attached To Direct Racing Movie 'Rush'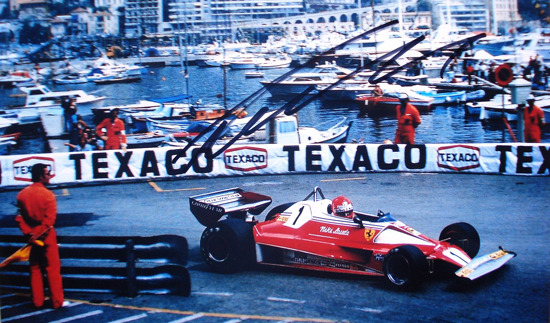 Cross one possible project off of Paul Greengrass' to-do list: Rush, the Formula One film about rival drivers James Hunt and Niki Lauda. Or, more properly, move that project to the to-do list of Ron Howard, because it is now being shopped around with his name attached.
The LA Times says that the Peter Morgan script (he also wrote Ron Howard's Frost/Nixon, you'll recall) now has Ron Howard's name in the 'director' slot, and the project is out to studios.
Can this happen? The LAT says that the idea is shoot the film in Europe this year, which could turn it into a fast-paced stopgap measure before The Dark Tower begins next spring. Are things well enough in hand with The Dark Tower that Ron Howard can go fully commit to another project in the next few months? We don't have an answer to that question.
Recapping what I wrote about Rush when it looked like a possible Paul Greengrass movie, only weeks ago:
Rush, meanwhile, is a Peter Morgan script about Niki Lauda's 1976 season, which features highlights like a rivalry with English racer James Hunt, and a near-fatal crash in which Lauda lost the track, crashed, burned and went into a short coma. James Hunt won that race, but Lauda persisted in challenging him throughout other Grands Prix that year.
I like the idea of the movie a lot, and while I haven't been all that enthusiastic about most of Ron Howard's recent work, Frost/Nixon is certainly one of the highlights of his resume in the last few years. So a reunion with Peter Morgan is appealing.