'Footloose' Trailer And Poster: In Which A Small Town Is Populated By Pro Dancers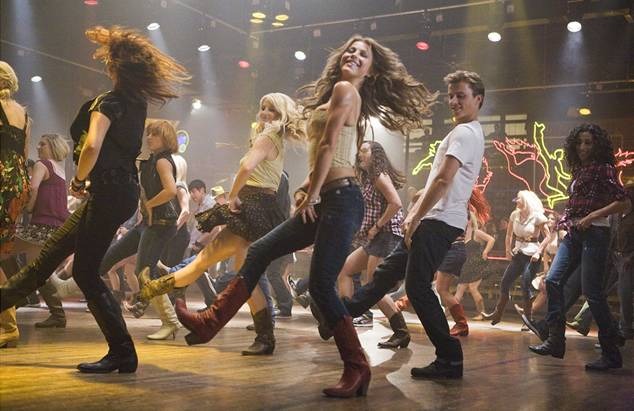 The first real trailer has dropped for the remake of Footloose, from Hustle & Flow director Craig Brewer, and starring Kenny Wormald and Julianne Hough. Given the importance of this particlar piece of footage, we'll cut right to the chase and you can find the trailer after the break.
So you're telling me that, in pretty consistent post-2000 fashion, there has to be a traumatically explicit reason that kids in this town can't dance. And there's some illegal 'street' dancing with people doing flips ten feet in the air. Oh, I don't know what else to expect, really. And if there wasn't already a perfectly entertaining movie called Footloose, this might look very vaguely OK. (I'm being too optimistic here, aren't I?) Kenny Wormald does a passable Kevin Bacon, I guess, if by 'Kevin Bacon' you mean Garrett Hedlund.
Though, really, the high-flying professional dancers are pretty silly. Isn't the point of Footloose supposed to be about how dancing is for everyone? Is this one of those small towns where everyone is on meth, but meth that imparts amazing dance skills instead of making you lose interest in dental hygiene?
Writer/Director Craig Brewer ("Hustle & Flow," "Black Snake Moan") delivers a new take of the beloved 1984 classic film, "Footloose." Ren MacCormack (played by newcomer Kenny Wormald) is transplanted from Boston to the small southern town of Bomont where he experiences a heavy dose of culture shock. A few years prior, the community was rocked by a tragic accident that killed five teenagers after a night out and Bomont's local councilmen and the beloved Reverend Shaw Moore (Dennis Quaid) responded by implementing ordinances that prohibit loud music and dancing. Not one to bow to the status quo, Ren challenges the ban, revitalizing the town and falling in love with the minister's troubled daughter Ariel (Julianne Hough) in the process.
Paramount opens Footloose, starring Kenny Wormald, Julianne Hough, Andie MacDowell and Dennis Quaid, on October 14, 2011.