James Cameron Says His 'Avatar' Sequels Are Not A Trilogy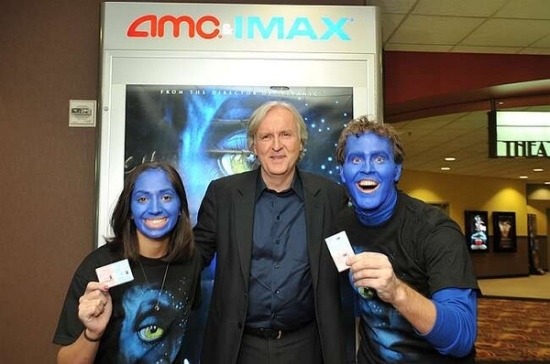 Only James Cameron, the man with back to back biggest movies of all time, could get away with saying something like this. He's currently writing two movies called Avatar 2 and Avatar 3 says they're not a trilogy. Three films, same continuing story, not a trilogy. Okay James, whatever you say.
In a brand new interview Cameron said that he's still writing both films but that they're not exactly a trilogy, more of  a "overall character arc." Read the exact quote and more updates on the films after the jump.
Fox News (Via Coming Soon) caught up with the Oscar-winning King of the World and asked him for the latest on the follow-ups to Avatar, the biggest box office hit in history.
We're shooting two films back-to-back, so I'm writing two scripts, not one, which will complete a [three]-film story arc – not really a trilogy, but just an overall character arc so I'm pretty excited about that. We're doing a lot of preliminary work right now on new software and new animation techniques and so on. We're creating a new facility in Manhattan Beach so everybody that's not already dead is coming back.
They then asked if he was feeling any pressure after the incredible success of the first film:
There's always an expectation. I had to deal with that after 'The Terminator' back in 1984. All of a sudden I had a big hit movie and it was 'what are you doing next?' But my job is take the audience on a journey and entertain them. The second I am sitting down writing, I just go to Pandora. I don't think about that stuff, about standing on a red carpet. It has its own life, really. The characters have their own lives.
Cameron has always been extremely confident and single minded. He spent years and years making both Avatar and Titanic and experts said both films would be failures. But Cameron persevered and both films not only weren't failures, they were the 100% opposite, each enjoying unprecedented, historic success at the time of release. If he says his new Avatar films are not a trilogy, as much as you'd like to jab at him, we're at a point where you just might have to believe him. What do you think?