Douglas Booth Will Be Romeo Opposite Hailee Steinfeld's Juliet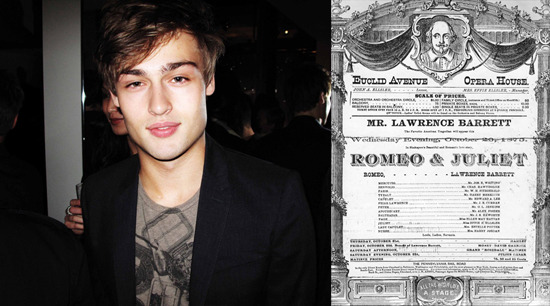 Briefly: I get the idea that yet another version of Romeo and Juliet isn't something that people are wildly keen to see, but that isn't putting the brakes on the film that Carlo Carlei (Flight of the Innocent) will direct based on a script by Julian Fellowes (Gosford Park).
The main reason to be interested in the movie, for me at least, is that it is looking like it will be the sophomore feature from True Grit breakout star Hailee Steinfeld. She's playing Juliet, and Holly Hunter, Ed Westwick and Kodi Smit-McPhee are also set for roles. Now Douglas Booth (Pillars of the Earth, the upcoming Great Expectations) will be her Romeo. Variety says he took the job over hundreds of other young applicants, but again, I'm not convinced that this one really has much heat. Still, the cast is shaping up well and there are few pieces of more proven material. If Carlo Carlei can make it feel like a fresh telling, no matter what style he adopts, it might surpass expectations.