Four New Character Posters For 'Fright Night'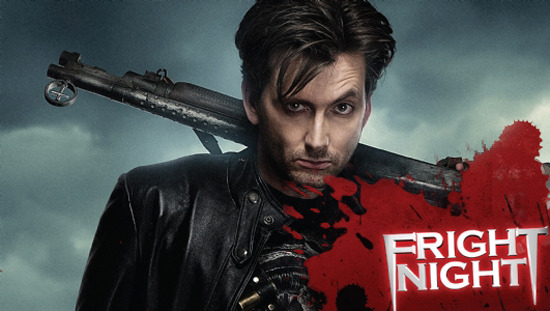 For a certain segment of the filmgoing population, the prime appeal of Craig Gillespie's new take on the 1985 Todd Holland horror/comedy Fright Night is the presence of David Tennant. He plays Peter Vincent, the stage magician with a deep interest in the occult that high school student Charley Brewster (Anton Yelchin) attempts to recruit in the fight against a vampire (Colin Farrell) who moves in next door.
We only recently saw the first footage of the new Peter Vincent in the film's second trailer, and now with four new UK character posters we get a good look at the Doctor-turned-Magician in full battle gear.
Here's the gallery, via Empire:
Senior Charlie Brewster (Anton Yelchin) finally has it all–he's running with the popular crowd and dating the hottest girl in high school. In fact, he's so cool he's even dissing his best friend Ed (Christopher Mintz-Plasse). But trouble arrives when an intriguing stranger Jerry (Colin Farrell) moves in next door. He seems like a great guy at first, but there's something not quite right– yet no one, including Charlie's mom (Toni Collette), seems to notice! After witnessing some very unusual activity, Charlie comes to an unmistakable conclusion: Jerry is a vampire preying on his neighborhood. Unable to convince anyone that he's telling the truth, Charlie has to find a way to get rid of the monster himself in this Craig Gillespie-helmed revamp of the comedy-horror classic.
Fright Night opens in 3D on August 19th.
http://www.slashfilm.com/fright-night-trailer-2-introduces-david-tennant-peter-vincent/