'A Dangerous Method' Trailer: Stately Kink With Fassbender, Mortensen And Knightley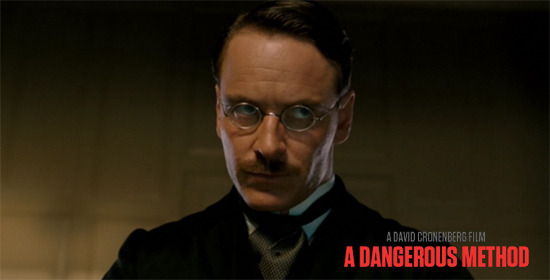 Aren't you glad you didn't look at the bootleg? Here's a proper-quality trailer for David Cronenberg's new film, A Dangerous Method, which stars Michael Fassbender and Viggo Mortensen as Carl Jung and Sigmund Freud, respectively. Check it out below.
(You can also see the trailer at the film's official site.)
Really, all I need to see here is Michael Fassbender as Jung and I'm sold. But Viggo looks great, as does Vincent Cassel, and some of Keira Knightley's moments help ease any anxiety I had about that casting. (A few other moments make me worry about her accent, but we'll see how that works out when the time comes.)
And then with Howard Shore's music and the characteristic Cronenberg title cards working with the lovely cinematography of Peter Suschitzky, there's a lot of Dead Ringers feeling here. (Which is appropriate as that was the first Cronenberg/Suschitzky pairing. They've come full circle.) In short, this looks great. Sony Classics will hopefully release the film this fall after it premieres on the festival circuit.
Cronenberg once again gathered a prestigious crew to work on A DANGEROUS METHOD, director of photography Peter Suschitsky (A HISTORY OF VIOLENCE, EASTERN PROMISES), composer Howard Shore (THE LORD OF THE RINGS Trilogy, AVATAR),  editor Ronald Sanders (A HISTORY OF VIOLENCE, EASTERN PROMISES, CORALINE), costume designer Denise Cronenberg (A HISTORY OF VIOLENCE, EASTERN PROMISES, THE INCREDIBLE HULK) and production designer James McAteer (GOOD WILL HUNTING, A HISTORY OF VIOLENCE, THE LEAGUE OF EXTRAORDINARY GENTLEMAN). The screenplay was adapted by Christopher Hampton (ATONEMENT, THE QUIET AMERICAN) from his own play.
Seduced by the challenge of an impossible case, the driven Dr. Jung (Michael Fassbender) takes the unbalanced yet beautiful Sabina Spielrein (Keira Knightley) as his patient in A DANGEROUS METHOD. Jung's weapon is the method of his master, the renowned Sigmund Freud. Both men fall under Sabina's spell.