'Flypaper' Trailer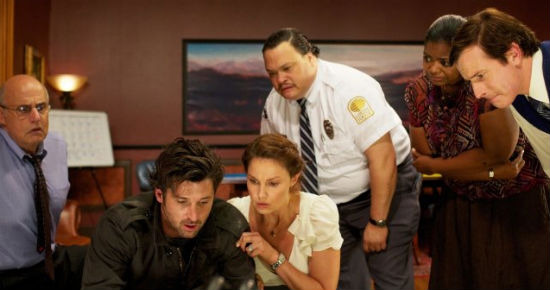 There's a bank heist movie coming out starring Patrick Dempsey, Ashley Judd, Tim Blake Nelson, Mekhi Phifer, Jeffrey Tambor and Rob Huebel, directed by one of the guys behind The Lion King and written by the guys who did The Hangover. Sounds pretty good, right? Flypaper, directed by Rob Minkoff and written by Jon Lucas and Scott Moore tells the story of what happens when three separate crews mistakenly decide to rob a bank at the same time. It premiered at the Sundance Film Festival and will come on demand July 15 before opening in theaters August 19. After the jump, check the trailer and read why you didn't hear much about the film after Sundance.
Thanks to Yahoo Movies for the trailer.
Looks pretty cool right? Well, as I said, Flypaper had its world premiere at the Sundance Film Festival in January and not only was I there, Peter was there too, along with a slew of other bloggers. And while many did reviews, there's a reason why didn't you hear about Flypaper here. Because when you see over 30 good movies in 10 days, it's not fun to write about the bad ones. Yeah, I'm sorry, but Flypaper is bad. Derivative, boring and devoid of energy. I'd say more but its been six months since I saw it and I don't even remember much about it. Here's the plot description:
Tripp Kennedy ambles into a bank near closing time, just as two different gangs unwittingly converge to rob it. A shoot-out erupts, and Tripp tackles the smart, beautiful teller, Kaitlin to protect her. When the bank's security system locks down the building and seals everyone inside, the night evolves into a hilarious game of cat and mouse. As Tripp and Kaitlin try to save the day and escape being killed, they might also need to avoid falling in love...
Oh yeah, that's right. I mean, if you are really into whodunit heist movies like Ocean's Eleven there are certainly worse movies than Flypaper, but there are much, much better ones too.