Superhero Bits: The Dark Knight Rises, The Avengers, Green Lantern, Cowboys & Aliens, Captain America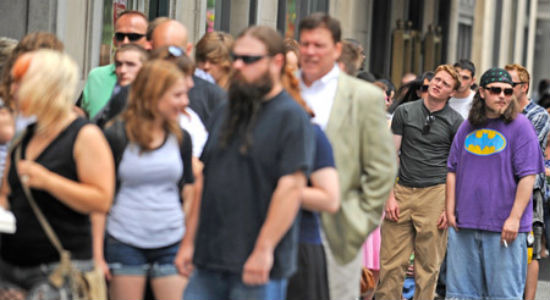 Want to see a photo of Christian Bale on the set of The Dark Knight Rises? What's the rumored next phase of the viral campaign, how many people showed up at a recent casting call and what is Michael Caine saying now? Has someone seen 15 minutes of The Avengers? And what did Mark Millar think of Green Lantern? Read about all this and more in today's Superhero Bits.
First, a big thanks to Justin Merriman of the Pittsburgh Tribune-Review for the above photo. Read more about it below.
Cowboys and Aliens opens in a little over a month. If your anticipation is rising, this featurette from SuperHero Hype will only help it skyrocket.
After Green Lantern's so-so opening weekend, plans for a sequel are up in the air. Geoff Johns, however, told Fast Company they have tentative plans for more than just a sequel or trilogy:
There are definitely plans for more Green Lantern films. I would hope it's more than a trilogy. I think Green Lantern has a lot of movies in it, a lot of stories to tell. The Flash, which I wrote the treatment for, is also in development, but I can't say much more than that.
[No photo]
Yes, it's small, but that is a photo of Christian Bale in The Dark Knight Rises. We now have confirmation that Bruce Wayne will be in The Dark Knight Rises! There are more photos on this Facebook page (Thanks to CBM).
Tags: Movie Trailers, Movies Blog
MTV is teaching Green Lantern Alien 101. Introductory video above.
Want more Green Lantern explanation? Cinema Blend has answers to 16 burning questions. For example, what's the deal with Angela Bassett's character?
Dr. Amanda Waller, played by Angela Bassett, is actually a huge character in the comics, bother literally and figuratively (her nickname is "The Wall"). In the comics her husband and two of her children are murdered and after escaping from the projects of Chicago she gets a doctorate in political science and eventually becomes a powerful figure that controls The Suicide Squad, a group of captured supervillains who go on covert missions for the government to lessen their sentences.
Behind the Shield, a new documentary about Captain America: The First Avenger, has come online via Geek Tyrant. Who doesn't want more Captain America?Julie Taymor was in Los Angeles and opened up a bit to Variety about Spider-Man Turn Off The Dark, saying the script wasn't ready, they should have previewed out of town and it was envisioned more like a circus.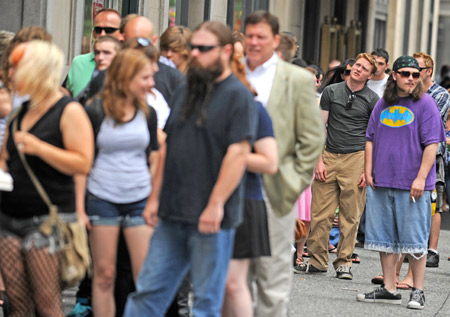 The Pittsburgh Tribune-Review (via Superhero Hype) says that almost 8,000 people showed up to a casting call to appear in The Dark Knight Rises. 3,000 extras are needed for "non-speaking roles for various types of good guys, bad guys and regular men and women." According to the piece, shooting for those scenes will take place from July 28 to about Aug. 21.
Due to the amount of graphics and images included in Superhero Bits, we have to split this post over TWO pages. Click the link above to continue to the second page of Superhero Bits.
Michael Caine has never been that good a source when it comes to Christopher Nolan's Batman movies so, take this with a grain of salt because it's a real stretch. Some sites are reporting that this quote (from Collider), because of the pronouns ("patch them together, when they all get back"), means Michael Caine is hinting at a sidekick in The Dark Knight Rises. Is he talking about the film in general? Selena Kyle? Thoughts?
I started filming last week and I film next week. As the butler, I do a load of filming at the beginning, and everybody goes off and does all the adventures and they all come home shot to pieces and I patch them together when they all get back. Christopher Nolan, I think, is one of the greatest directors in the world and I've been lucky enough...this is my fifth movie with him. It's such a pleasure to work with him and he's so clever. We've all signed the Official Secrets Act. I'm lucky to be able to tell you the title of the movie. I remember I did an interview and someone said to me, "What are you doing next?" I said, "I'm doing Batman." I saw Chris and he said, "Why did you tell them you were doing Batman?" I said, "Because I am." He said, "You're supposed to keep it secret." I said, "I couldn't keep that a secret." Let me tell you...the plot is extraordinary...really extraordinary. I know why he wants to keep it a secret. You really need not to know till you see the movie.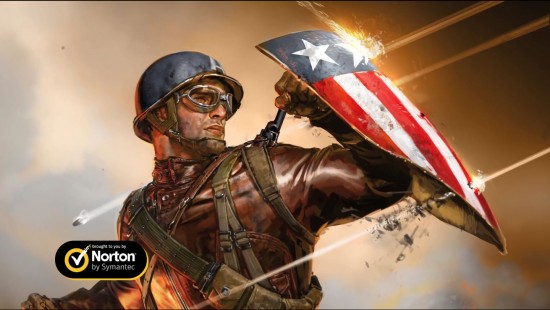 Like that Captain America: The First Avenger featurette above? Well, the same people have a whole series of cool concept art from the film that you can check out. In addition to the photo above, Comic Book Movie has a bunch more.
You've already seen the new Batmobile from Batman Live, now hear its creator talk about its creation in detail thanks to Engadget.
Comic Book Movie reports that someone has seen 15 minutes of The Avengers and it "left my friend's jaw on the floor." Here's the description but, realize, people working on the film have probably seen stuff and no one working on the film is dumb enough to say anything. So, grain of salt:
He/she was shown "animation of un shot battle scenes and saw footage of The Avengers together. no special effects yet." I was told what was shown was pretty spectacular. And I can say just one more thing, The Hulk will play a "key role" in these screened battle scenes.

Is that true? Who knows, but Joblo seems to think it might be. Makes sense.
Mark Millar really hated Green Lantern. Comic Book Movie strung together some of his tweets.
I hereby declare Green Lantern the worst superhero movie ever made. And yes I count The Phantom and The Shadow as superhero movies....Green Lantern was the cheapest-looking 300 million dollar movie I've ever seen. Why didn't they give that money (to) Africa?....It had a couple of good moments, all coming from Mark Strong. But oh man....It was just such an ODD movie. Like it travelled here from a parallel universe where they made a Green Lantern movie in 1995.....But it was only eight quid and thus worth it. And I know I'll go and see it again.