Nicolas Winding Refn Plans RomCom With Ryan Gosling, Would Cast Christina Hendricks As Wonder Woman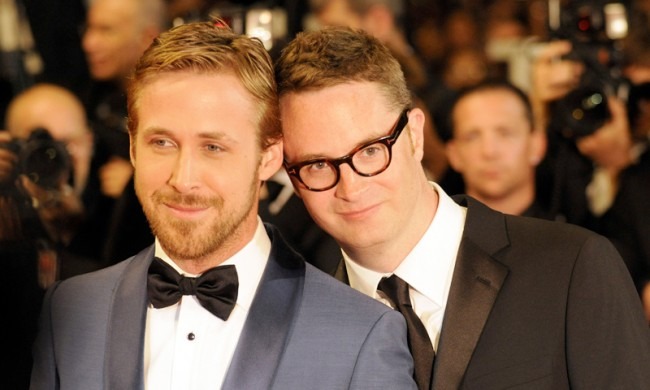 Nicolas Winding Refn could own 2011 and 2012. The director has been one of our faves for some time thanks to the Pusher trilogy, Bronson, and Valhalla Rising, and his action thriller Drive, with Ryan Gosling, generated great buzz at Cannes and won Mr. Refn the Best Director prize.Drive recently premiered in LA, and the director was on the red carpet to answer questions from press. In doing so, he talked about another film that he and Ryan Gosling would like to do after their Logan's Run remake, which he described as a romantic comedy. He also continued to press the idea of directing Wonder Woman, in which he would cast Drive co-star Christina Hendricks.
First up: the romcom. The impish Mr. Refn told the LA Times,
We're doing a comedy, and Albert Brooks promised he'd write the screenplay... Well, that's not exactly true. But print it and we'll make it true.
To clarify, Ryan Gosling added: "We're definitely going to do a comedy, and we're trying desperately to get [Brooks] to write it." Albert Brooks, remember, is the antagonist in Drive (in addition to being an acclaimed writer/director) and earned particularly good notes for that role at Cannes.
Nicolas Winding Refn says the film is set in New York, or, I guess, that it would be set in New York. Will this one ever happen? Can't make that call based on the info we have, but I love the idea. It would be a big genre change-up from the director, and I'm happy to see that he and Ryan Gosling are interested in making a few films together.
And then there's Wonder Woman. Last year in an interview with the BBC, Mr. Refn said,
I guess one of the aims I am having, but at the very early stage, I always wanted to do Wonder Woman as a feature film...Well, I would say that Wonder Woman is probably something that, to me, would be not just a satisfaction, but almost a [catharsis], and I was born to make it.
That idea seemingly hasn't gone away. At the Drive premiere, during a conversation with Vulture, the director talked briefly about Wonder Woman, and pointed at Christina Hendricks saying, "If I ever get to do it, she's going to be it."
Granted, after this weekend's opening for Green Lantern, we'll see how Warner Bros. addresses the idea of doing further superhero films that aren't Batman or Superman. They'll probably still happen, but how and when might be another question. But if you were going to give a film like that to someone, this would seem to be the guy — he's proved time and again that he can deliver the goods on a budget. And if Drive and (more likely) Logan's Run prove that he can also play to the mainstream, Wonder Woman might actually happen.
Before either of these get made, however, there is Only God Forgives, the western thriller set in Asia that Mr. Refn will make later this summer with Luke Evans and Kristin Scott Thomas. After that he'll get to Logan's Run, which is set up with Joel Silver and Warner Bros. — i.e., the same people who have been developing Wonder Woman for years.