First Concept Art From Tarsem's 'Snow White'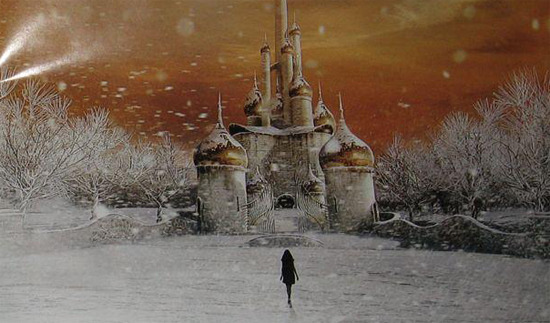 Relativity has set Tarsem Singh's untitled Snow White film in motion, with the production beginning photography this week. The film stars Julia Roberts, Lily Collins, Armie Hammer and Nathan Lane, and at this past week's licensing expo, Relativity unveiled some production art for the film. Now one big piece of art has graced the pages of a print edition of THR. That's a snippet above; you can see the full image and read descriptions of others below.
ComingSoon snapped the pics of the image and the odd tagline, "A Comedic Adventure Awaits," should make clear the film's intent. Tarsem hasn't yet directed a comedy (or not an intentional one — The Cell is arguably very funny) so that should make for an interesting aspect. Here's the full image. Click to enlarge.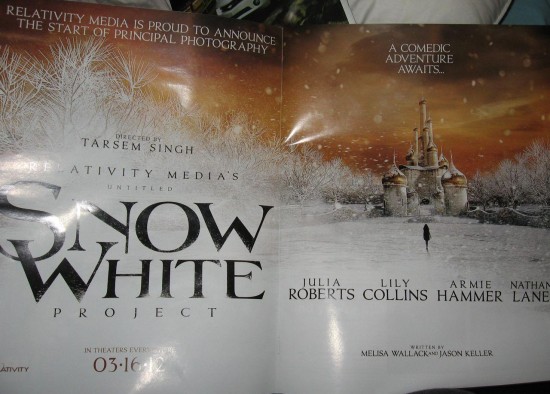 In addition, last week ComingSoon ran descriptions of other art, saying that those who appreciate Tarsem's well-established visual style will find a lot to like.
The look of the forest in which some of the story takes place is classic in design, but the other art "seems to draw from a wide range of inspiration, including a very Indian-looking palace and several masquerade designs reminiscent of Mardi Gras and old storybook illustrations."
More than one costume party/masquerade is part of the plot, with bright, colorful costumes and overall design. The Prince (Armie Hammer) "is seen in a coat and tales costume with (for the party) rabbit ears emerging from his top hat."
As in Universal's Snow White film, this Snow White will be a fighter who is part of a few action scenes. "Exiled from her kingdom, she's actively trying to win back her rightful throne and combines a blue dress with black, leather armor."
The seven dwarfs has an identity closely tied to his costume. The site says "Cowboy wears a cowboy hat, and Wolf is draped in animal skin and another wears a crooked top hat."
The Snow White film will be given a title down the line, and is scheduled for release nine months from now, on March 16, 2012.
In Relativity's Untitled Snow White starring Oscar®-winner Julia Roberts and breakout star Lilly Collins (The Blind Side), an evil Queen (Roberts) steals control of a kingdom, and an exiled princess (Collins) enlists the help of seven resourceful rebels to win back her birthright in a spirited adventure comedy filled with jealousy, romance, and betrayal that will capture the imagination of audiences the world over. The film also stars Armie Hammer (The Social Network) as the object of their affection, Prince Andrew Alcott, and Nathan Lane (The Birdcage) as the hapless and bungling servant to the Queen.