New Footage Abounds In 'Rise Of The Planet Of The Apes' Commercial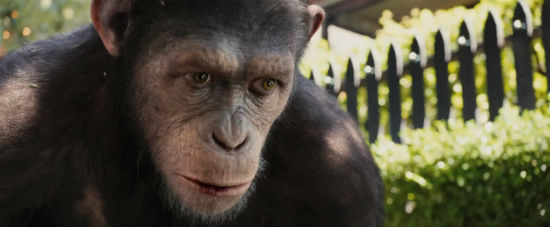 While the two previously released trailers for Rise of the Planet of the Apes have focused more on action, this brand new 60 second TV spot finally strays from that. In the film, James Franco plays Will, a scientist who develops a drug intended to cure his father (John Lithgow) of Alzheimer's disease. Will also discovers that the drug increases the intelligence of an ape named Caesar (Andy Serkis) and decides to bring him home. This 60-second clip focuses more on that family aspect, gives us our first real good look at Tom Felton's character and then, of course, kicks up the action. From what I know about Rise, this 60 second look is the best representation of the film yet, both in its tone, structure and percentage of action. Check out the new-footage-filled clip after the jump.
Thanks to 20th Century Fox UK for uploading this clip (with a nod to First Showing). The film will be released in the U.S. August 5.
So what do you think?
The clip also shows several new shots of the WETA motion capture that Andy Serkis did playing Caesar and it's looking increasingly impressive. Obviously, it looks digital – it's impossible to drop a big batch of ones and zeros into reality and make it totally seamless – but there's no doubting that Caesar's emotions are well-defined and come across. These trailers have all been cut so quickly, though, I'll be interested to see how he stands up as a character in an ongoing scene, especially since he communicates non-verbally.
For more info on Rise of the Planet of the Apes, and if you have an hour, Peter and I did a long video after we visited the set last summer which includes many things about sets, characters and more that haven't been widely reported on.