'30 Minutes Or Less' Red-Band Trailer #2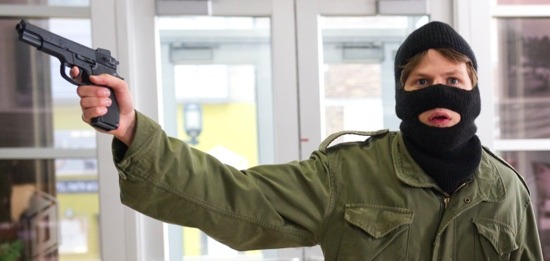 I'm going to ignore any questions of taste and/or ethics that might possibly be involved in turning a violent, very messed up real-life robbery into, well, a slightly messed-up comedy. Instead I'm just going to take a moment to appreciate the fact that this second red-band trailer for Ruben Fleischer's Zombieland follow-up 30 Minutes or Less makes the film look pretty damn funny. It's got one of the better kickers to end a trailer in some time. Check it out below.
Quick recap: Jesse Eisenberg, looking here like he has some fun playing around with a role that pushes him further than usual, plays a pizza delivery guy coerced by two losers (Danny McBride and Nick Swardson) into robbing a bank for them. How do they manage that? By strapping a bomb to his chest, of course. (True story, kind of.) His friend, played by Aziz Ansari, gets roped into the scheme and the situation spirals pretty quickly out of control.
I think this is a much more successful trailer than the last one we saw. There is a lot more comedy here, and a sense of ridiculous, over the top antics that I liked. It looks a bit like PIneapple Express, but hopefully more successful as a whole. 30 Minutes or Less opens August 12.
In the action-comedy 30 Minutes or Less, Nick (Jesse Eisenberg) is a small town pizza delivery guy whose mundane life collides with the big plans of two wanna-be criminal masterminds (Danny McBride and Nick Swardson). The volatile duo kidnaps Nick and forces him to rob a bank. With mere hours to pull off the impossible task, Nick enlists the help of his ex-best friend, Chet (Aziz Ansari). As the clock ticks, the two must deal with the police, hired assassins, flamethrowers, and their own tumultuous relationship.