'Dexter:' New Teaser Spot; Edward James Olmos' Role Teased; Molly Parker Cast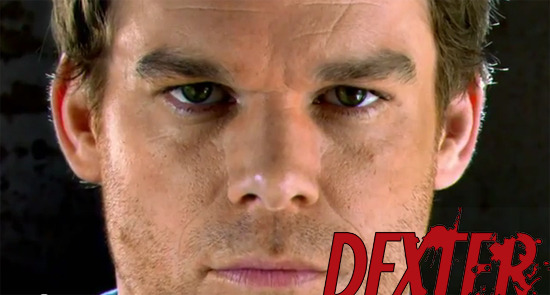 Showtime's Dexter keeps rolling, and the channel promises that this upcoming sixth season will bring the character, played once again by Michael C. Hall, back to his roots. There are new cast members like Edward James Olmos, Colin Hanks, and the recently cast Molly Parker (Deadwood) to add a little extra flavor, too. Now we've got some new info on the show. After the break you'll find:
An enjoyably creepy teaser clip in which Dexter explains just what to expect this season.
The nature of Molly Parker's role.
And, perhaps more interesting, the possible nature of the character played by Edward James Olmos.
Some of what follows is potentially spoilerish, so if you want to let the show deliver the surprises, just watch the teaser and move on.
First, here's the teaser. HD isn't really doing those red eyes any favors, but I think we can get the idea anyway:
As for Molly Parker, the wonderful actress who was so good in Deadwood and quite a few features, TV Line says that she'll play the sister to Colin Hanks' character, Travis. (He's "a brilliant expert on ancient artifacts who somehow becomes linked to a series of grisly murders in Miami.") The site says that details about her role are difficult to come by, and recounts Showtime head honcho David Nevins saying that season six is not all about one big bad.
Oh, but if there was going to be one dominant guy — kinda like a big bad — who would it be? Probably Edward James Olmos. In a different piece, TV Line says that CS Lee, who plays Masuka, says that the character played by Mr. Olmos is almost certainly a villain, and may be the villain. "It seems to be that way... The guy is such a wonderful actor and such a presence that you would probably shoot yourself in the foot if you didn't do that. He's going to be great." Pretty vague, so read that as you will.
Here's Showtime's blurb about season six. Beware spoilers if you're not caught up.
This season, Dexter goes from happily married husband to guilt-ridden single dad. How will it affect his ability to maintain an average-guy facade while satisfying his need to kill? Dexter Morgan spent Season 5 atoning for the death of his wife Rita. He committed to being a part of her children's lives, and entered into a deep, passionate relationship with Lumen, unlike anything he'd ever had before. But Dexter's need to kill overpowers his desire for human connection. And now that one person knows the truth about him, and a few others are close, how much longer will America's favorite serial killer be able to keep his dark side a secret?