'Alvin And The Chipmunks 3: Chipwrecked' Teaser Trailer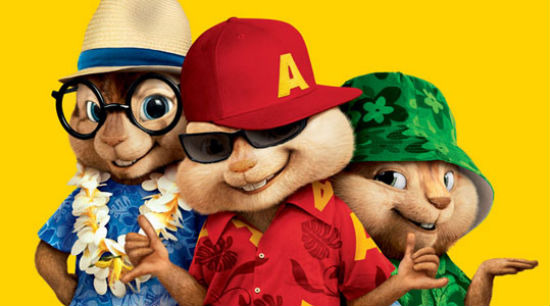 Scoff all you want at the Alvin and the Chipmunks series but there are two numbers you simply can't scoff at: $217 million and $219 million. From budgets under $100 million a piece, that's how much the first film and its Squeakquel grossed domestically. So it was absolutely no surprise when 20th Century Fox announced they'd be making a third movie and the teaser trailer has just been released. Alvin and the Chipmunks – Chipwrecked, directed by Mike Mitchell, features David Cross, Jason Lee and others but no humans show up in the 35 second trailer. It's just the chipmunks and one of the most obvious and uncomfortable movie references ever. Chipwrecked will be released December 16.
Thanks to Apple for the trailer. Head over there to watch it in High Definition.
At least it was short, right? Here's the official plot description of the film:
The vacationing Chipmunks and Chipettes are turning a luxury cruise liner into their personal playground, until they become 'chipwrecked' on a remote island. As the 'Munks and Chipettes try various schemes to find their way home, they accidentally discover their new turf is not as deserted as it seems.
Like most of you, I was an Alvin and the Chipmunks fan when I was younger so the release of the first film should have churned up some nostalgia. Unfortunately, the CG sort of did away with that. When the Squeakquel was released, though, I was working for a children's entertainment website and was forced to watch it. The film was obviously terrible, but kids were literally dancing in the aisles. Plus, I was kind of surprised at the respect and reverence the filmmakers had for the original creations, paying regular homage and referencing the cartoon and other iterations often.
That said, I'm fairly certain the further this franchise goes, the less it will be about respect and more about fecal ingestion, obvious references and pop songs. Have you seen any of these films?