'Moneyball' Trailer Is A Little 'Oceans Eleven,' A Lot 'Friday Night Lights'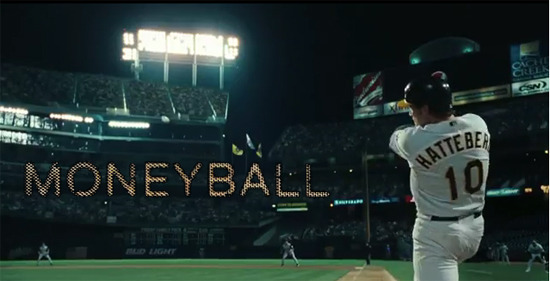 Did you skip the awful Entertainment Tonight presentation of the trailer for Bennett Miller's Moneyball, which came complete with unwanted additional voiceover? So did I, but we're all in luck now, as Sony has released a clean HD version of the trailer to Yahoo. Check it out below.
I like the arc of this trailer a lot — there are classic underdog sports themes going on, as Oakland As GM Billy Beane (Brad Pitt) struggles for more money or, failing that, a strategy to build a winning team in the face of old-man thinking behind the scenes. Hope arrives via young statistician Peter Brand (Jonah Hill, playing a fictionalized version of Paul DePodesta), who pushes a system of teambuilding that relies on hardcore stat crunching.
Cue an acknowledgement that the whole thing is a gamble ("we are card counters... we're going to turn the odds on the casino") and a somber Friday Night Lights musical bridge. There's even a trademark Aaron Sorkin personal moment. ("Don't go on the internet." Also, does Brad Pitt look like he's styled after Sorkin more than after the real Billy Beane?) It's good stuff, and makes the long process of making the film seem worth the wait.
Yahoo has the HD version.
Based on a true story, Moneyball is a movie for anybody who has ever dreamed of taking on the system. Brad Pitt stars as Billy Beane, the general manager of the Oakland A's and the guy who assembles the team, who has an epiphany: all of baseball's conventional wisdom is wrong. Forced to reinvent his team on a tight budget, Beane will have to outsmart the richer clubs. The onetime jock teams with Ivy League grad Peter Brand (Jonah Hill) in an unlikely partnership, recruiting bargain players that the scouts call flawed, but all of whom have an ability to get on base, score runs, and win games. It's more than baseball, it's a revolution – one that challenges old school traditions and puts Beane in the crosshairs of those who say he's tearing out the heart and soul of the game.