'Attack The Block' Red-Band Trailer Gives You Reason To Believe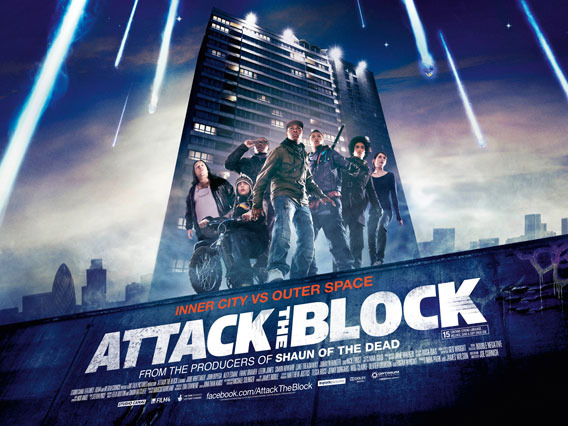 The second round of US promo screenings for Joe Cornish's tremendously entertaining 'kids versus aliens' movie Attack the Block took place tonight, and timed accordingly there is also a new red-band trailer for the movie. In the film, a small group of foul-mouthed South London council flat hooligans run afoul of alien beasts that rain from the sky. Made on a smallish budget and with the biggest 'name' talent being Nick Frost, Jodie Whittaker and Luke Treadway, the film has to build a good amount of mainstream interest before opening (via Screen Gems) in late July. So check out the red-band action after the break, and get ready to believe.
I'll admit, the first time I watched this trailer, I frowned a bit at how much it gives away. It gives a lot away: jokes, aliens, etc. But Screen Gems is opening the film on July 29 opposite Cowboys & Aliens, i.e. a movie with a couple of global superstars (Daniel Craig and Harrison Ford) and a year's worth of marketing behind it. Hiding stuff probably wouldn't work as a strategy for Attack the Block. Audiences need to see that there is something here. And this trailer definitely proves that there is quite a lot here.
So what I'll say is this: if you already know you're ready to see Attack the Block, don't watch this trailer. (Maybe just check the first one again.) But if you've wondered what people have seen it are really ranting about, this bit of footage might just convince you that the movie is the real deal.
One thing I'll address: I've seen people worried and/or complaining about the fact that the characters in the movie aren't exactly heroes. And no, they're not. The main group of kids are dicks who begin the movie by robbing a young woman on her way home from work. But that's part of what makes the movie the real deal. Attack the Block never tries to arbitrarily convince you that they're actually great people. It does not shy away from who these kids are. In fact, it engages their nature frequently, and ends up describing a set of characters with believable, sometimes contradictory characteristics. Getting an audience to root for them is a huge challenge, and I think Joe Cornish manages it with skill. The jokes are funny, the setpieces work and the creatures are cool, but it is that character trick that really impressed me.
ATTACK THE BLOCK follows a gang of tough inner-city kids who rob Sam (Whittaker) as she is walking home in a scary South London tower block.  She flees when the gang is attacked by a small alien creature which falls from the sky.  While Sam and the police hunt for the gang, a second wave of creatures falls.  The gang grabs weapons, mount bikes, and set out to defend their turf.  But this time, the creatures are much bigger.  Savage and bestial, nothing will stand in their way. And the bunch of no-hope kids who just attacked Sam are about to become her only hope.