Four New Posters For 'Harry Potter And The Deathly Hallows: Part 2' Show Heroes, Villains, An Epic Showdown And A Gigantic Dragon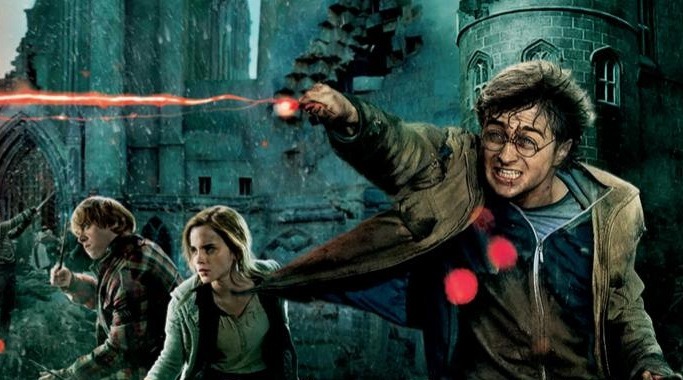 With just one month left before the Harry Potter film series ends for good, it feels like we're getting a some new bit of promotional material practically every day. At this point, I've lost count of just how many posters we've already seen for Harry Potter and the Deathly Hallows: Part 2. But as long as they look this fantastic, I'm not complaining. In the days since we last showed you the last batch of posters, featuring the heroes and villains looking dirty and bloodied, a handful of new posters have been released. Hit the jump to see the forces of good, an army of evil, and a huge-ass dragon.
In the first poster, Harry Potter (Daniel Radcliffe) stands looking determined and battle-worn, with Hermione (Emma Watson) and Ron (Rupert Grint) faithfully at his side. If you look closely, you can make out several other good guys in the background, including Ginny (Bonnie Wright), Neville (Matthew Lewis), the Weasley parents (Julie Walters and Mark Williams), Seamus (Devon Murray), and Dean (Alfred Enoch).
Since every good hero needs an equally awesome archnemesis, Warner Bros. has also released a corresponding poster featuring Voldemort (Ralph Fiennes) in an emerald-green robe, with Bellatrix (Helena Bonham Carter), Lucius (Jason Isaacs), and Narcissa (Helen McCrory) leading an army of Death Eaters behind him.
Then there are the two new banner posters, which I look forward to seeing plastered all over the NYC subway system any day now (if they're not up already):
The first one shows Harry and Voldemort engaged in an epic showdown, with their teams on their respective sides while Hogwarts gets destroyed in the background. For some reason, Neville appears to be looking in a completely different direction from everyone else.
And in the second, the trio hitch a ride on a dragon as they (spoiler) literally break out of Gringotts Wizarding Bank. It's a bit of a departure from most of the earlier posters, which seem to be focusing on either the individual characters or the "good vs. evil" angle, but I can't deny that it looks cool.
[via Entertainment Weekly, Cinema Blend, MTV and First Showing]
The eight and final entry in the Harry Potter film series, Harry Potter and the Deathly Hallows Part 2 opens July 15, 2011 and will be available in 2D, 3D, and 3D IMAX — take your pick. The film was directed by David Yates, who's been with the franchise since the fifth installment (Harry Potter and the Order of the Phoenix). In addition to the actors mentioned above, it also stars Jim Broadbent, Robbie Coltrane, Warwick Davis, Michael Gambon, Ciarán Hinds, John Hurt, Gary Oldman, Maggie Smith, David Thewlis, Emma Thompson, and many, many others.