'Beneath The Darkness' Trailer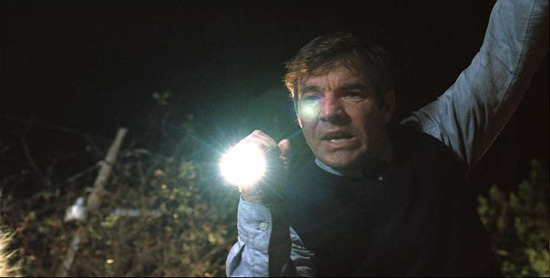 Dennis Quaid has occasionally played less than squeaky clean characters (like Arlis in Flesh and Bone) but he isn't known as an actor who regularly jumps back and forth between playing heroes and villains. He's got too much of a square-jawed appeal and a winning smile for that. But everyone has to change things up once in a while, so here's Beneath the Darkness, in which Dennis Quaid plays a small-town mortician who is also a murderer. When some kids are witness to his 'work,' no one believes them. Because it's Dennis Quaid!
Check out the trailer after the break, and discuss the following statement: Disturbia : Rear Window :: Beneath the Darkness : Psycho.
This is a pretty terrible trailer that possibly gives away more of the movie than it should. I can't tell if the film is really as bad as the trailer makes it out to be, but it sure doesn't look particularly good. Dennis Quaid is channeling equal parts Kevin Spacey and Harrison Ford here — that line "most accidents happen in the home" is delivered in a tone that really plays into the decades-old Ford vs Quaid argument.
Aimee Teegarden, Tony Oller, Stephen Lunsford, and Devon Werkheiser are also in the cast, which was directed by Martin Guigui.
After watching their best friend get murdered, a group of teens struggle to expose a local hero as the psychopathic killer and keep from becoming his next victims.
[Facebook, via STYD]