Casting Bits: Anna Kendrick And Natalie Martinez In 'End Of Watch;' Bill Moseley In 'Leatherface 3D;' Adam Scott In 'My Mother's Curse'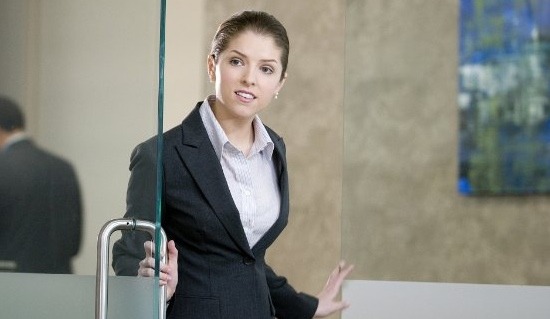 David Ayers wrote and will direct End of Watch, which already has Jake Gyllenhaal and Michael Pena cast as two LAPD officers who "confront marriage, love, fatherhood and the harsh realities of the Los Angeles streets." Now Anna Kendrick and Natalie Martinez (Detroit 1-8-7) are in talks to play the respective love interests in the movie. We don't have too many more details on End of Watch, but the film shoots later this summer. [Variety]
After the break, a total change of pace into horror as The Texas Chainsaw Massacre 2 co-star Bill Mosely gets a role in Leatherface 3D, but not the same role he played in Chainsaw 2. And Adam Scott books two new comedy roles.
Twisted Pictures is really moving forward with Leatherface 3D, aka The Texas Chainsaw Massacre 3D, which is meant to be a direct sequel to the original 1974 The Texas Chainsaw Massacre. Bill Moseley played the leering, grotesque Chop-Top in Tobe Hooper's original sequel to his first film, and so it (almost) makes a weird sort of sense that the actor would take a new role in this sequel that seeks to supersede the existing one.
Dread Central says Bill Moseley is playing Drayton, which seems to be a nod to the cook played by Jim Siedow in the two Tobe Hooper movies. John Luessenhop is directing the film in Lousiana this month, from a script by Debra Sullivan, Adam Marcus and Stephen Susco, with rewrites by Kirsten Elms and the director. The plot reportedly involves "Heather, who, along with her friends, travels to Texas in order to collect an inheritance. The spin? Said inheritance comes with a cousin who goes by the name of Leatherface."
Finally, Adam Scott has joined the Seth Rogen and Barbara Streisand comedy My Mother's Curse. Anne Fletcher directs hot screenwriter Dan Fogelman's script about an inventor and his lovelorn mom on a cross-country road trip. Colin Hanks and Yvonne Strahovski are also in the cast.
He's also got a role opposite Robin Tunney in See Girl Run, which Nate Meyer is directing. That's about a woman whose failed relationships cause her to look back at her past loves; Adam Scott plays a guy who never left their hometown and is still pining for the girl he loved in high school. [THR]