'Boondock Saints' Television Series In The Works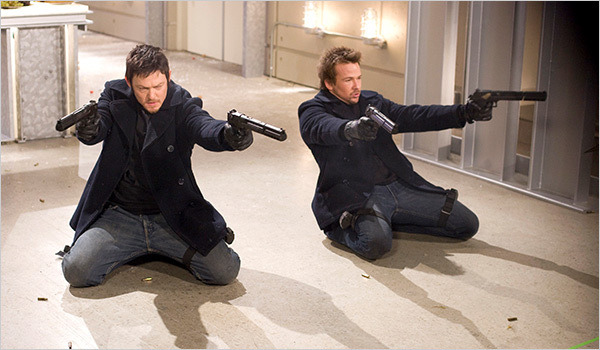 Despite an initially awful reception both critically (19% on Rotten Tomatoes) and commercially ($30,471 domestic total gross), Troy Duffy's The Boondock Saints has become a huge cult hit over the past several years — enough to spawn a sequel in 2009, a comic book in 2010, and a documentary about Duffy in 2003. Now the Irish vigilantes may be getting a television series as well. Read on after the jump.
Here's Duffy's exact quote about the potential series:
We've been approached to do a possible Boondock Saints TV series. So the fans may be getting a part 3 as a television show. We might be able to pull that off.... I actually called both Sean and Norman and they both said "hell yeah, we'll drop everything."
Right off the bat, I'm a tad skeptical that there's enough depth to the characters or setting to sustain an ongoing television series without getting repetitive — but of course, it's way too early to jump to conclusions. There's no telling how Duffy might expand on the brothers and their universe when he has twenty hours of television to film instead of just two hours of a movie. At any rate, it seems like a good bet that the series'll have a built-in fanbase. If Duffy can manage to keep the elements that fans love while adding enough interest to draw audiences back from week to week, a Boondock Saints series could do fairly well.
Discuss: What do you think? Would you watch a Boondock Saints television series?