Video: The Coen Brothers And Noah Baumbach Talk Movie Openings And The Coens Next Film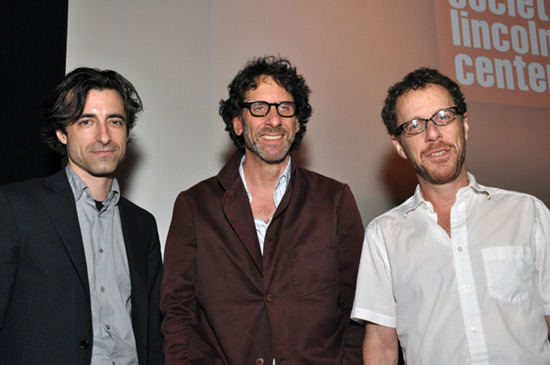 Joel and Ethan Coen are not known for doing interviews. But over the weekend they took part in the opening celebration of the Film Society of Lincoln Center's new Elinor Bunin Munroe Film Center, by participating in an hour-long talk with director Noah Baumbach. The subject was primarily the openings to several films from all the participants, but the conversation ranged a bit wider than that.
Check out the entire conversation via video after the break, and we'll also highlight the news that emerged about one of their possible next films.
The conversation was oriented around the methodology behind opening movies, with specific discussion of No Country For Old Men, Blood Simple, The Big Lebowski,  A Serious Man, Burn After Reading, Greenberg, Margot at the Wedding, and The Squid and the Whale. So there is some very specific conversation about each of those movies, some of which will be pretty illuminating to fans.
Before we get to the video, however, there was a question about the Coens' oft-reported disinterest in doing a musical. That disinterest was denied by the brothers, and the ultimate upshot of the question was the revelation that the brothers are working on a music-based film that might be a bit like Margot at the Wedding — that is, more naturalistic and perhaps Altman-like than is their wont. Ethan Coen joked that Noah Baumbach should be making the movie. (The following transcription via The Playlist.)
Noah: And you're working on a movie now that has quite a bit of music in it.
Joel: Yeah, but I don't know that it will have any playback. [ed: that is, scenes orchestrated to music played on-set.]
Ethan: Yeah, it will be mostly live I think.
Joel: We're working on a movie now that has music in it but it's pretty much all performed live, single instrument so it's hard to tell.
There was some more talk later from Joel Coen about writing for actors and how the new script is coming along:
In adaptations that we've done, even if we have ended up using the same actors, they have, generally speaking, been written because the characters are presented to you in an adaptation. So they're written without regard to who's necessarily going to play them, from our point of view. But in stories that we're coming up with ourselves it's frequently the case that we write for specific people although I have to say, the [musical] thing we're doing now, we're not writing specifically for any of the parts which is unusual for us.
Here's the talk. Noah Baumbach is a perfect host/moderator, because he allows some of Ethan Coen's super-deadpan jokes to play with the right amount of space. Given the fact that the Coens are among the most celebrated American filmmakers, their reluctance to do a great deal of press has left them as something of an enigma to many audiences. This talk is great because it shows each of their unique personalities in ways that might be new to some.
[Image and video from the Film Society of Lincoln Center site, via The Film Stage]