Warner Bros. Will Distribute New Sylvester Stallone Film, Formerly Called 'Headshot'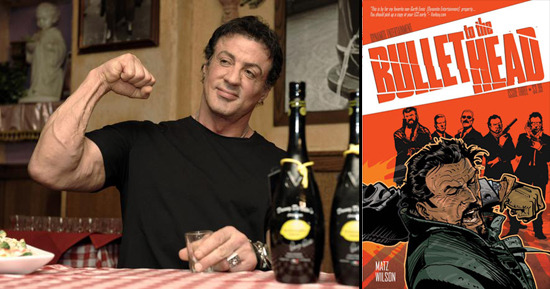 The Sylvester Stallone film Headshot, which adapts the Matz and Colin Wilson graphic novel Bullet to the Head, became a bit more promising than just another action film when Walter Hill signed on to replace Wayne Kramer as director. Mr. Hill hasn't made a great many movies in the past twenty years, but on the basis of classics like The Warriors, 48 Hrs. and The Driver, we have to be hopeful for a comeback.
Now Joel Silver's Dark Castle Entertainment has partnered with IM Global and After Dark Films on the project, which also means that Warner Bros. will distribute the final product. It will, however, go out with a different title.
Walter Hill was said to be rewriting the Alessandro Camon script, which has the following plot:
[Stallone teams]with a young NYPD detective in a high-stakes investigation that leads from the dingy back alleys of New Orleans all the way to the power corridors of Washington, D.C. The unlikely duo, brought together by two vicious murders, take on all who stand in their way, and are willing to sacrifice everything to exact revenge.
Last time we heard about the film it was from Thomas Jane, who said he was playing the NYPD detective. But the press releases that have gone out tonight about the project going to Dark Castle and Warner Bros. don't mention him at all. They do say that Fast Five's Sung Kang will play a role, but we don't know what that role is. For the record, here's what Thomas Jane told JoBlo:
[Stallone is] a hitman, I'm a cop, and we're just opposite in every f*cking way, and we need each other to get this job done. And of course I'm like, 'As soon as this job's over, I'm going to take you to jail, you know, you're a killer.'
So we'll wait and see if there is any confirmation on his presence, or if he spoke too soon. As for the title: THR doesn't report a new one, but does say the film was formerly called Headshot, and references the graphic novel title, Bullet to the Head, multiple times. That is pretty similar to the classic John Woo Vietnam movie Bullet in the Head. But since that film is 20+ years old at this point, WB might not consider it an issue. What might be an issue, however, is the Google result set for "bullet to the head." The studio will want a title that, if not perfectly searchable, is at least not going to pull up images of war atrocities.