Casting Bits: Ellie Kemper In '21 Jump Street;' Chace Crawford In 'The House Gun;' Joel Kinnaman In 'Lola Versus'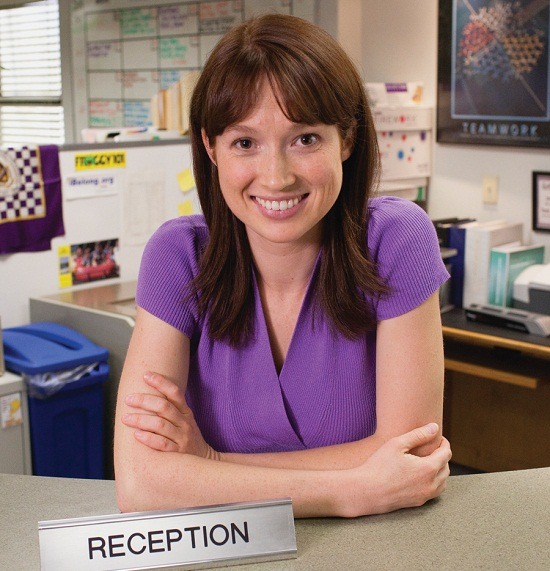 Oh, look what Bridesmaids has done for Ellie Kemper: it scored her a gig in 21 Jump Street in her time off from The Office. The feature version of the '80s TV show is shooting now with Jonah Hill and Channing Tatum as cops undercover in a high school to root out drugs and trouble. Late addition Ellie Kemper will be a love interest: Ms. Griggs, "an annoyingly sincere chemistry teacher who's attracted to Tatum's character and surprised when she discovers he's not a real student." (Sometimes casting like this is actually set for some time before it hits the trades, so it is possible Ellie Kemper isn't as late an addition as she appears to be.)
The key point of interest here (for me, at least) continues to be that the Cloudy With a Chance of Meatballs team of Phil Lord and Chris Miller wrote and are directing. [Variety]
After the break, Gossip Girl's Chace Crawford is looking like the co-star with Pierce Brosnan in The House Gun, and rapidly rising talent Joel Kinnaman is cast in the Fox Searchlight film Lola Versus, where he'll dump Greta Gerwig.
Chace Crawford is emerging from under the shadow of Gossip Girl. Joel Schumacher's Twelve didn't prove to be a great path to the screen, but he'll be in Responsible Adults with Katie Holmes, and will now play an accused murderer in The House Gun, based on Nobel winning author Nadine Gordimer's novel. The LA Times quotes sources near the production saying the actor is in talks.
Chace Crawford's character would be the son of a man played by Pierce Brosnan, " a respected architect who is convinced of his son's innocence." In the novel, the younger man is accused of shooting and killing his housemate. The family hires a black lawyer to defend him, and that wouldn't be a plot point, except for the fact that the story takes place in post-apartheid South Africa. The lawyer is yet to be cast.
Here's an account of the novel, which sounds like something that could be almost unbearably heavy-handed if not handled well on film:
Harald and Claudia, highly successful professionals (he heads up an insurance company, she is a physician), find their comfortable life in post-apartheid South Africa turned upside down when their only son is accused of murdering one of his housemates, using the communal "house gun" they had purchased for protection. The parents are dumbfounded when Duncan does not deny the crime. How could their son be a murderer, and are they somehow to blame? Duncan acted out of jealousy, but was it heterosexual jealousy or something else? He is going to be defended by a black attorney. Will the attorney's lack of courtroom experience be a liability, or will his race favorably influence the judge?
Finally, it looks like Orlando Bloom is out of the the Fox Searchlight romcom Lola Versus, which still stars Greta Gerwig, Debra Winger, Bill Pullman, Zoe Lister-Jones and new addition Hamish Linklater. In place of Orlando Blooom is Joel Kinnaman of The Killing. The film is about " Lola, played by Gerwig, after she's dumped by her longtime boyfriend, played by Kinnaman, right before their wedding. Lola goes on to embark on a series of desperate encounters in an attempt to find her place in the world."
Daryl Wein (Breaking Upwards) co-wrote with Zoe Lister-Jones, and he'll direct as well. The shoot began today in New York. [Variety]