'Tabloid' Trailer: Errol Morris Explores '70s Sex Scandal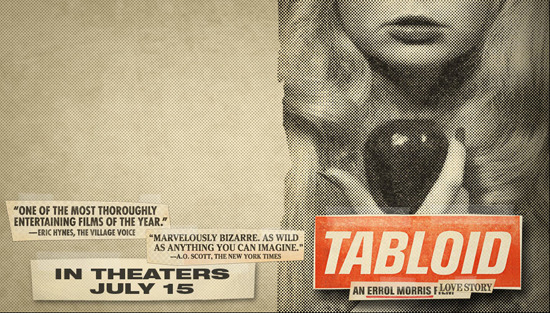 This is one of the best trailers I've seen so far this year. The Errol Morris documentary Tabloid chronicles a very strange subject: Joyce McKinney, who became a tabloid fixture in the UK in 1977 when accused of kidnapping and raping a Mormon missionary named Kirk Anderson. It was called 'The Case of the Manacled Mormon,' and now famed documentarian Errol Morris explores the story in his own polished style.
Tabloid appeared at Telluride and TIFF last year and SXSW this year, and Sundance Selects will release it in July. The trailer gives out an incredible amount of information in a very entertaining and, yes, tabloid manner. Check it out after the break.
There has been some small controversy over the film, as some participants aren't thrilled with the way the story comes across on screen. Not having seen the film I can't comment on that, but I can say that, having watched this trailer a couple times, I can't wait to see the movie. I've long been enthralled by the way Errol Morris explores stories on screen, and this looks like one of his most entertaining to date.
Apple has the HD madness.
Thirty years before the antics of Lindsay, Paris and Britney, Joyce McKinney made her mark as a peerless tabloid queen. In TABLOID, Academy Award(R)-winning filmmaker Errol Morris (THE FOG OF WAR) follows the salacious adventures of this beauty queen with an IQ of 168, whose single-minded devotion to the man of her dreams leads her on a labyrinthine crusade for love. Down a surreal rabbit hole of kidnapping, masochistic Mormons, risque photography, magic underwear, celestial sex, jail time and a cloning laboratory in South Korea, Joyce's fantastic exploits were constant headlines.