Simon Pegg Hopes To Start Writing New Movie With Edgar Wright Before 'Star Trek 2'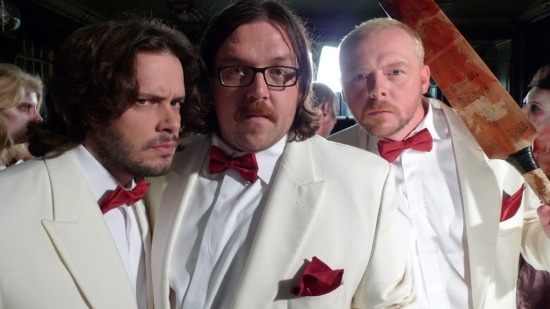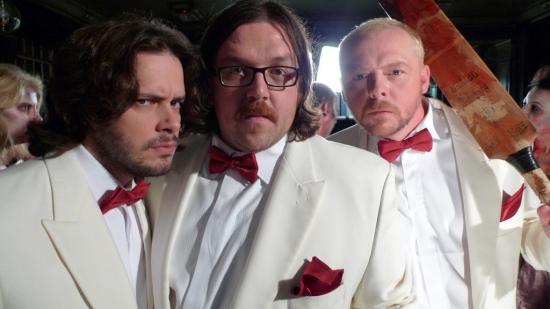 Their brilliant TV show Spaced was a U.K. hit, but most of the U.S. and the rest of the world was first introduced to Simon Pegg, Nick Frost and Edgar Wright when their salute to zombie films, Shaun of the Dead, hit the big screen. They followed that up with an homage to action films called Hot Fuzz and made a promise for another film in that vein. Since then they're all constantly asked about the long rumored conclusion to the trilogy, lovingly referred to as either the "Blood and Ice Cream" or "Three Flavors Cornetto Trilogy."
For a few years those questions slowed down because Wright was working on Scott Pilgrim vs. The World and Pegg and Frost were making Paul. Both those films are out now and, once again, the questions have begun. In a new interview, Pegg said that he's hoping he and Wright can knock out a draft before he has to be on set for Star Trek 2. Read more after the jump.
Pegg was talking to Mr. Beaks over on Ain't It Cool News about Paul (coming to Blu-ray and DVD on August 9) and, of course, the topic of a new 'Blood and Ice Cream' film, rumored to be called The World's End, came up. First, Beaks asked Pegg if there was any kind of added pressure after the first two films and the intense fan anticipation for this one:
Yeah, and I hope we sort of confound it in a way. I wouldn't want to become predictable or be the guys who do that. The next thing that we do will hopefully be... you know, in writing our new thing, Edgar and me have been very determined – that we're going to start in earnest very, very soon – to not just do the same thing again, to do something very different. Not to the point of alienating people who want something, but just give people something new and something different. You can't just stay where you are forever. You have to mutate to survive, and I think we're going to make sure that we do that. I'd hate to become stale and predictable. People are already making films that are kind of like the sort of thing we might do. I want to stay a little bit ahead of the curve at least.
Then, he followed up by asking when that might happen:
We already started the conception process, so it's just a question of when we can get together. I'm just about to start shooting a movie here in the UK, so maybe between that and STAR TREK we might get a chance to bang out a first draft if we're lucky.
We've heard plenty in recent weeks about Star Trek 2 and know that it's pretty far along in the writing phase, but won't be done until J.J. Abrams can take a crack at it. However, even if they move the impending release date back a few months, it'll still most likely need to go into production by early next year at the latest. With another movie in the middle for Pegg, that's not a big window for the pair to write.
On a list of hypothetical movies that we should eventually see, The World's End is right near the top for me. It's nice to know that the film is still on Wright and Pegg's minds and that they won't release anything unless they are 100% happy with it.