Rian Johnson's 'Looper' Set For Late September 2012 Release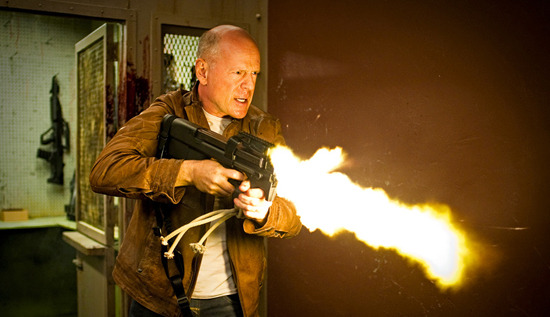 As we've said in several pieces in the past, Rian Johnson's third film Looper (which follows Brick and The Brothers Bloom) is one of our most anticipated pictures in the next year or so. FilmDistrict and Tri-Star are releasing the film, and we'd hoped to see it sometime early next year. Sadly, we're going to have to wait a bit longer than that. Tri-Star has set a date for the film: September 28, 2012.
That's a long time to wait, but it's kinda par for the course — The Brothers Bloom had, shall we say, an extended release calendar as well. But Looper seems like it should be worth waiting for. Joseph Gordon-Levitt, Bruce Willis, Emily Blunt, Piper Perabo, Garrett Dillahunt, Paul Dano, and Xu Qing star in the film, which was shot primarily in Lousiana and China. Without giving too much away, here's the basic recap:
Looper is a time-travel action thriller involves a killer (Gordon-Levitt) who works for the mob of the future. He, along with other so-called Loopers, dispose of people that are sent from the future. When he recognizes one victim as his future self (Willis), he hesitates, letting the man escape.
Here's more info on Looper; I want to keep this post kinda spoiler-free, while that link offers a bit more detail.
Along with this date comes a handful of other FilmDistrict release date shifts. The Gerard Butler soccer romcom Playing the Field (co-starring Uma Thurman, Jessica Biel, Catherine Zeta-Jones and Judy Greer) hits on March 9. And Lockout (aka Taken in space), with Guy Pearce, Maggie Grace and Peter Stormare, will how hit on April 13, 2012 instead of in late February.
A few other release date shifts, while we're at it:
Love Crime, with Kristen Scott Thomas, will now open from IFC on September 2. Brighton Rock moves from August 19 to August 26.