'Super 8' Secret Screening: /Film Reader Reactions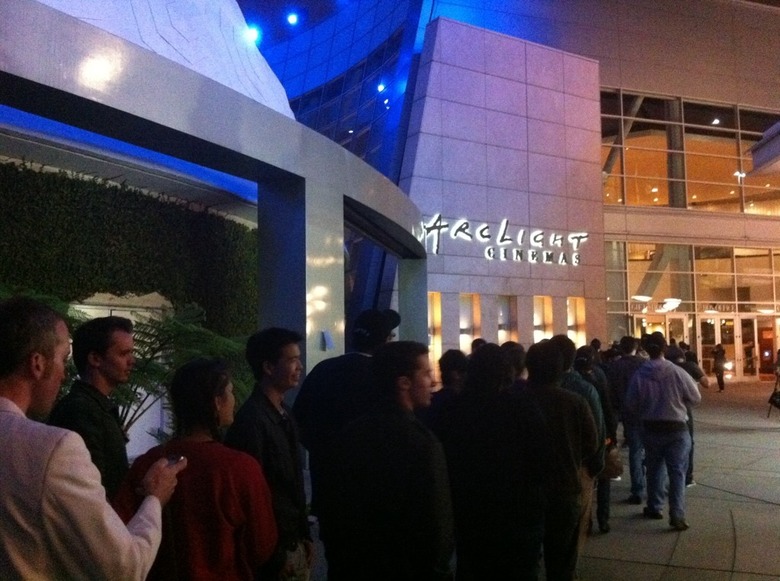 /Film co-presented an advance screening of JJ Abrams' Super 8 last night in Hollywood California. While screenings were held in 11 other cities (in 250-300 seat theaters), the /Film and FirstShowing readers turned out in full force for the Hollywood sneak preview — almost filling the Arclight's 850+ seat Cinerama Dome. The line stretched around the block and rather than turn away a huge amount of people, Paramount Pictures were awesome enough to upgrade from a normal sized theater to the dome.
A group of /Film readers at the front of the line were at the Arclight at 11:00 am for the 10:00 pm screening — talk about dedication. It was great meeting and talking with some of the /Film readers who waited hours in line, and it was also awesome to see this movie with a theater full of very excited fans — the best possible crowd. It was an awesome night for sure, thanks to all of you who came out!
Following the screening, a lot of readers tweeted me their brief reactions, most of which were positive to extremely possitive. At first I attempted to retweet some of the better entries, but even those became too many. So after the jump I've included all of the reaction tweets coming out of last night's screening as of 3am pst. None of the tweets included in this post contain spoilers. Enjoy, and feel free to leave your thoughts in the comments below.
JohnTuccillo: Thanks @SlashFilm @Super8Movie was incredible and I got to see the early screening because of you. #bestnightever
WesLockhart: Super 8 worth the 11 hour wait and 70 mile drive to be first in line. For 2 hours I was a kid again. #mint #super8secret
CoreyAtad: Super 8 was a great throwback that didn't just rest on easy nostalgia to elicit laughs, thrills and emotion. Thanks @slashfilm #super8secret
ericbennett_: Awesome movie.JJ doing what he does best creating characters with heart that feel real. Goonies + CEot3K + ET. And fireworks...
Gustavo_Delgado: #Super8Secret screening was great! Everything a movie should be! Thanks @slashfilm & @firstshowing.
johnkiggins: I think the #Super8Secret is that they just don't make them like that anymore. Exciting, Funny, Touching, Scary, Sweet, Awesome.
patmc4fun: Tons of fun! Heart of a Speilberg flick, with fun of 50s sci-fi. Loved it! #super8secret
MichaelMidnight: Many thanks to @Slashfilm & @FirstShowing for the @Super8Movie screening tonight @ArcLightCinemas! Guys this is one Summer flick NOT to miss
TravisFishburn Super 8 is f***ing great! Made me feel like a 10-year-old in rural Ohio again!!! Must see! #Super8Secret #Super8isSuperGr8
JonathanGodinho: If you love movies that are unashamed to make you feel alive, then Super 8 is for you. So enjoyable. Thanks to @slashfilm for the screening!
MrDVD #Super8Secret is fantastic, sweet, nostalgic, whimsical, pulls on heartstrings, and most important fun. Go see it. #super8secret if this movie were a woman I'd marry it.#truestory
BrandonStines: Super 8 is what every monster movie should strive to be. Entertaining, gripping, emotional and suspenseful. Loved it.
RajRawal37: thank you to @slashfilm for helping me see @super8movie #super8secret and letting people experience the magic of the big screen. #arclight
TheRealWeinbeez: THANK YOU THANK YOU THANK YOU @slashfilm for hosting tonight! Thank you @GermainLussier ! And thank you @Super8Movie !!!
splanderson: absolutely amazing. Makes me excited for movies to return to their former glory. A total fun ride. #super8secret
sajak551: Loved #Super8Secret thanks for heads up on the special Wednesday Screenings #Mint @Super8Movie
JosephAGarcia: @slashfilm @firstshowing thanks for screening. Loved the movie. #super8secret when's the next screening?
powerfuldog: Super 8 was awesome. Pure Spielbergian glory!
Alanedit: lukewarm at best. I'd wanted to watch a Spielberg film, I'd go watch one he made. #Super8secret
Schofizzy: Half-liked SUPER 8. The kids are exceptional, event is thrilling but rest is a mixed bag so over-stuffed the seams are splitting. Good seeing @slashfilm, @firstshowing, @GermainLussier  and @timbuel all looking so dapper in their sport coats tonight at #Super8Secret
splanderson: #super8secret was a total blast. Thanks @firstshowing and @slashfilm for an awesome night (more boxes of swag next time please).
dhruvpatel: I seriously loved @super8movie they dont make movies like this anymore! thanks @slashfilm #super8secret
ale808: it was great. '80s homage that should resonate w/ all ages. A fun film w/ a lot of heart.
sschultee: @super8movie is just what I needed. Classic filmmaking. Just a lot of fun. Great summer movie
JayBurnley: Super8 is phenomenal.  Thanks – many thanks – to @slashfilm and @firstshowing.  Great screening at the Cinerama Dome.
Monrreal: Oh my god. Super 8 was just incredible. #Super8Secret @slashfilm @Super8Movie
geekrest: Loved it. J.J. Abrams nailed the classic movie-making formula. #super8secret
Vivalamattt: Super 8 was amazing!! Thanks @slashfilm @GermainLussier @Super8Movie  for an amazing evening and movie!! EPICCC
MikeTWolf: really enjoyed it & glad to see the kids be the film's centerpiece but something was missing to make it great.
Dobey92: #Super8 was everything I hoped for and more!
thenicolepole: I love what JJ Abrams did with @Super8Movie. So glad he's still on my tv every week with Fringe.
EznoMoran91: movie was a lot fun, kids performances were great. Wasn't a fan of the alien design, solid 8/10
chuckganchorre: LOVED Super 8...thanks again, guys. Got any View-Masters left...?
SnapTheJap: @Super8Movie (at the #Arclight) was GREAT! The BEST studio film I've seen this year! Thank U @slashfilm & @firstshowing. #Super8Secret
bradclapper: Loved it! Everything you could ask for in a summer blockbuster and more. A perfect Abrams/Spielberg hybrid. #Super8Secret #mint
BryanHarley: It was excellent! Absolutely loved it. #Super8
beameupgabe: Thank you @slashfilm! Super 8 was so fucking dope! Loved every minute of it!
commonthreads10: it was fucking amazing excuse the language  but that's  all that can describe it
Shan_K_Mc: Go see Super 8!!!  Refreshing and classic, will definitely be going a second time! @slashfilm @Super8Movie #super8secret
brianrose: Thanks for hosting this man. Incredible night, cheers.
jssutherland: just saw you at the arclight... @Super8Movie was SICK "I'm incredibly stoned right now"..HA..jj brought that spielberg feel..uh
BarnabyBarrilla: Thank you to the best film blogs @firstshowing & @slashfilm for being great host for @Super8movie
timcab: Super 8 summed up in one word: FUN! #super8secret
mikecampton: Thanks to @slashfilm for the heads up on #super8secret screening. Absolutely loved the film. Absolute JJ brilliance.
miguelianraya: Super 8 was a truly wonderful movie – and what an amazing group of fans to see it with at the screening. Thanks Peter!
BigPapaStarks: super 8 was a great movie, it was well worth waiting since 11 oclock to see, a must see and great way to kick off the summer!
NiteOwl14: Super 8 was incredible. A perfect summer film. Thanks @slashfilm #super8secret @Super8Movie
seanoneill: I loved the film. While the 3rd act wasn't as strong it was a classic in the making, it reminded me why I live to be a filmmaker!
jprfilm: @super8movie it really was. I had a great time & will watch again.
Hydesy: super 8 was childhood all over, but with a great twist! #super8screening
inezco: it was pretty awesome, J.J. Abrams continues to impress and improve as a director