Cool Stuff: Shepard Fairey's 'They Live' Mondo Poster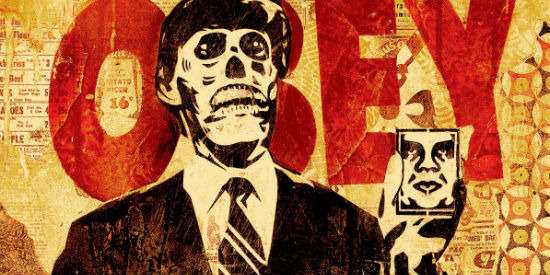 If you know anything about artist Shepard Fairey or John Carpenter's film They Live, you'd be hard pressed to come up with a better marriage of artist and material. For the first time ever, the Alamo Drafthouse and their art boutique Mondo were able to get Fairey to create a poster and, of course, they chose They Live, which is screening Thursday night in Austin. Fairey predictably knocked it out of the park with an image that encompasses both his dogma and the movie's.
After the jump check out the full image, find out when you can buy it and read about Fairey's connection with the film.
Without further ado, here's Mondo's They Live poster by Shepard Fairey. Click on the image for a bigger version: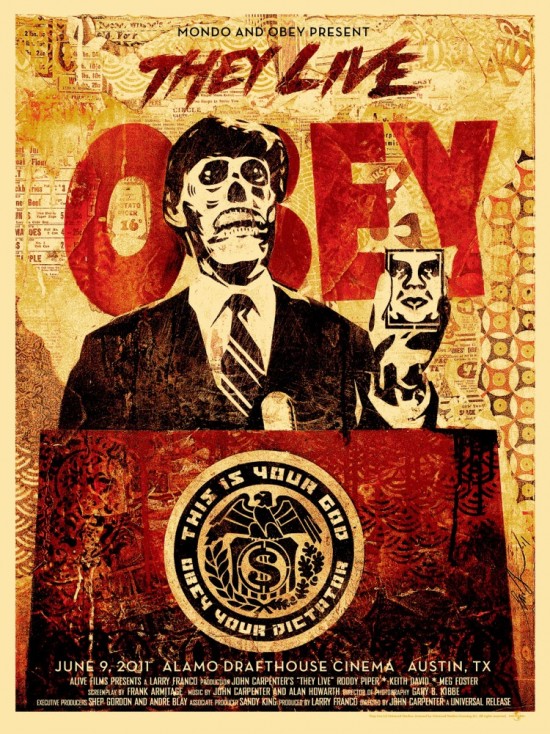 Fairey had always been well-respected in the art world but it was his famous Obama "Hope" image that put him into the national spotlight. For film fans, he became a household name because of his role in Exit Through The Gift Shop. Long before that, though, he was well-known for his Obey images plastered all over the world, demanding people to "Obey" with an image of Andre the Giant. That sort of subliminal subservience is exactly what They Live is all about. Based on the Ray Nelson short story Eight O'Clock in the Morning, Carpenter's film stars Rowdy Roddy Piper as a construction worker who finds a pair of sunglasses that reveals the world has been overrun by aliens who have placed evil subliminal advertising everywhere. It's the exact kind of thing that Fairey wanted to make art about. Here's what he had to say about the connection a few years ago:
The This is Your God show in 2003 at the Six Space gallery in downtown L.A. was an opportunity to showcase the sociopolitical message of the Obey campaign by paying homage to John Carpenter's They Live, which was a major source of inspiration and the basis for my use of the word "obey." The movie has a very strong message about the power of commercialism and the way that people are manipulated by advertising. One of my main concepts with the show (and the campaign as a whole) was that obedience is the most valuable currency. People rarely consider how much power they sacrifice by blindly following a self-serving corporation's marketing agenda, and how their spending habits reflect the direction in which they choose to transfer power. In They Live, the protagonist discovers hidden messages lurking behind billboards and anything commercial, and the money says "THIS IS YOUR GOD" on plain white paper. I designed a graphic that looked somewhat like real money but with that slogan, which we used for the invitations and a billboard I rented on the corner of Sunset and Hollywood to promote the show.
The above image first goes on sale to the attendees of Thursday's screening and the remaining prints go on sale Friday June 10 at a random time by following @MondoNews. The 18 x 24 inch print with an edition of 500 will cost $50. Good luck picking up one of these bad boys.
And if all this They Live talks gives you that Carpenter itch, scratch it by seeing his new movie, The Ward, which is now on demand and comes out on July 8.