John Krasinksi To Star In Matt Damon's Directorial Debut, Filming Begins Next Year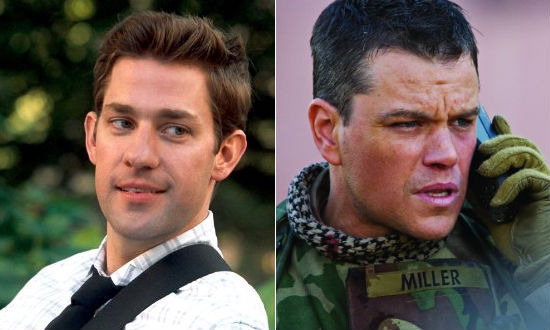 A few years ago, it seemed like the only time Matt Damon would ever follow his friend Ben Affleck was in an alphabetical list. Both were Oscar-winning screenwriters turned popular leading men but Damon's choices earned him a much more respectable reputation. However, Affleck has recently become a highly-sought after director and now Damon is hoping to follow his friend into the director's chair.
It's been discussed that Damon could direct the baseball wife-swap movie The Trade but he's also attached to helm Father Daughter Time: A Tale of Armed Robbery and Eskimo Kisses. Now Damon has come out and said that he will direct his first movie early next year and that it'll star John Krasinski, best known for his work on The Office. Is it Father Daughter Time or something else? Read after the break.
Vulture spoke with Damon at the American Institute for Stuttering 5th Annual Benefit Gala and asked him when he was going to start directing:
I am coming closer to a directorial thing, yes. I've got a few things that I really want to direct, and one I'm actually going to start at the first quarter of next year.
He then added, "John Krasinski's in it."
Both Vulture and The Playlist believe Damon is talking about Father Daughter Time because The Trade "is having some legal issues." Father Daughter Time has a cool, but not unfamiliar premise, about "a man who goes on the lam with his daughter on a 3-state crime spree." Think a smaller, more personal Bonnie and Clyde meets The Professional. But the whole father/daughter thing has shades of not only Hanna but also the upcoming Future Perfect and Blackbird. The questions then come up: how different is this, and is Damon going to be the father or will it be Krasinski?
Damon has worked with some of the best directors in the world (Martin Scorsese, Clint Eastwood, Cameron Crowe, the Coen Brothers, Steven Soderbergh, Gus Van Sant, Steven Spielberg, Francis Ford Coppola and more) so he's basically gone through the best possible film school imaginable. Plus, if he has any questions, he can call Ben Affleck and ask for help.