'Super 8' To Sneak Preview Thursday June 9; Brand New Illustrated Poster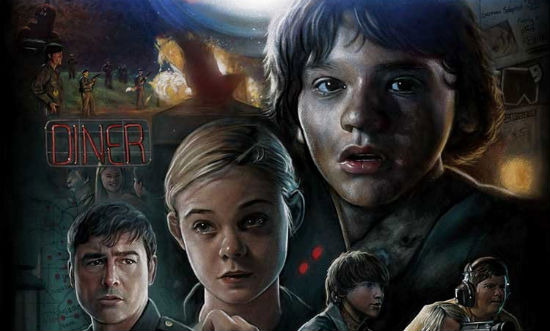 Did you get shut out of tonight's free #Super8Secret screenings? While you are going to miss something very cool, you'll get a chance to see the movie itself sooner than you think. Paramount has teamed up with Twitter to promote the fact that Super 8 , the Steven Spielberg/J.J. Abrams collaboration will open in several hundred regular and IMAX theaters Thursday at noon in advance of its wide opening on Friday.
After the jump, find out how you can get tickets and get a look at the new, gorgeous, Drew Struzan-inspired poster. Then check back later this week for more Super 8, including more reviews, interviews and more, in the next few days.
To find out if Super 8 is playing Thursday in a theater near you, head over to Super8-Movie/sneak and click on the links to the popular movie ticket websites. From what we can tell, some theaters are only showing it once during the day, while others are showing it all day, but you can purchase tickets now.
Here's the official press release for some more info.
Paramount Pictures and Twitter jointly announced today sneak preview showings of the movie SUPER 8 for 1-day only on Thursday, June 9th, in advance of the film's scheduled nationwide release on Friday, June 10th. To promote the sneak previews, the companies have designated the hashtag #Super8Secret, which Paramount has also sponsored as a Promoted Trend, allowing Twitter's global user base a direct link to buy tickets to the advanced previews. At select, participating theatres in the United States, Super 8 Sneak Preview moviegoers will be treated to a free popcorn (with a concession purchase) at each sneak preview show. Hosting movie sneak previews marks a first for Twitter. This promotion continues a key partnership between Paramount and Twitter on SUPER 8. The duo joined forces in March for the movie's exclusive trailer premiere via Twitter, another exciting first for the site.
SUPER 8, from writer/director J.J. Abrams and producer Steven Spielberg, will open exclusively tomorrow, June 9th, on over 300 screens nationwide, featuring all 239 IMAX playdates in the U.S. and Canada. Fans can go to www.Twitter.com/Super8Movie and use #Super8Secret to share information about the movie with friends. To be among the first to see SUPER 8, visit www.Super8-Movie.com/sneak for tickets and show times.
"With SUPER 8, J.J. and Steven have created a really fun and engaging movie for all ages," said Rob Moore, Vice Chairman of Paramount Pictures. "We are excited to finally get it out into the marketplace and using this sneak preview promotion with Twitter to kick start the film's release, is an unprecedented way to get people into theaters and talking about the movie."
"Twitter is how we hear about new movies and share our tiny reviews before the credits finish rolling," said Biz Stone, Twitter cofounder. "There are already millions of people talking about SUPER 8 on Twitter and Paramount gets that. Creating more excitement about the film with sneak previews and free popcorn is a smart way to make this film a global conversation even before it's released.
"Twitter has the incredible capability of spreading buzz in real-time, as well as fostering communal conversations that encapsulate large audiences in a matter of seconds. We believe these elements are key in promoting a movie like SUPER 8 that has such incredible playability and the potential for unlimited positive word of mouth," said Amy Powell, Paramount's Executive Vice President, Interactive Marketing Strategies & Film Production.
SUPER 8 is an Amblin Entertainment / Bad Robot production, directed by Abrams from his original script and produced by Steven Spielberg, Abrams and Bryan Burk. The film stars Kyle Chandler, Elle Fanning, Joel Courtney, Gabriel Basso, Noah Emmerich, Ron Eldard, Riley Griffiths, Ryan Lee and Zach Mills. The movie takes place in the summer of 1979, where a group of friends in a small Ohio town witness a catastrophic train crash while making a super 8 movie and soon suspect that it was not an accident. Shortly after, unusual disappearances and inexplicable events begin to take place in town, and the local Deputy tries to uncover the truth – something more terrifying than any of them could have imagined.
For more information, go to www.Super8-Movie.com.
Follow Super 8 on Twitter at www.Twitter.com/Super8Movie. #Super8Secret
Like us on Facebook at www.Facebook.com/Super8Movie
And here's the full version of the new poster. Very cool stuff. Weird that it's released so late. [UPDATE – Because it's fan made. Thanks to Movies.com for the heads up.) Thanks to IMP Awards.